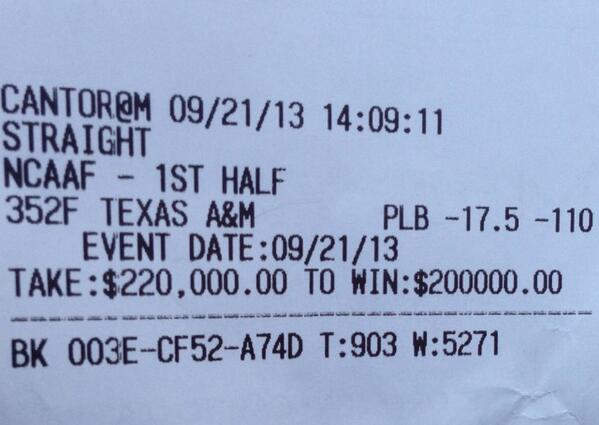 Floyd Mayweather Jr.'s reported $42 million payday from his sparring session fight with Saul "Canelo" Alvarez has the president, boss, and emperor of the Money Team in a betting mood. That, or he probably had nothing better to do on a Saturday night considering he was holding a boxing clinic just seven nights earlier.
So with little action on the horizon, Money May went and sought action, to the tune of a $220,000 bet on Johnny Manziel and Texas A&M covering the 17.5 first half line against SMU last Saturday. And just like that, in a little under two hours of watching the 10th ranked Aggies obliterate the Mustangs to the score of 32-6, the pound-for-pound king had another $200,000 to add to his already fat wallet.
Floyd was even gracious enough to tweet a photo of the winning ticket, together with a shout out of gratitude to the reigning Heisman Trophy winner while also throwing a thinly veiled shot at the NCAA. All in two sentences.
"Congratulations @JManziel2 for putting on a fantastic show. He may not be able to make money off himself but I can," the tweet said.
This isn't the first time Mayweather has made his winning tickets public. He does it a lot, especially those that cash. The losing ones, not so much. Then again, we find it hard to believe, given how much money this man makes, that he sweats about losing $100,000 on a losing bet. That might lead others to depression, but Mayweather shrugs it off like many of the shots Alvarez tried hitting (and missing) him with during their fight.
Just another day in the betting life of the man with the best – and most appropriate – nickname in sports today.
Image credit: @floydmayweather