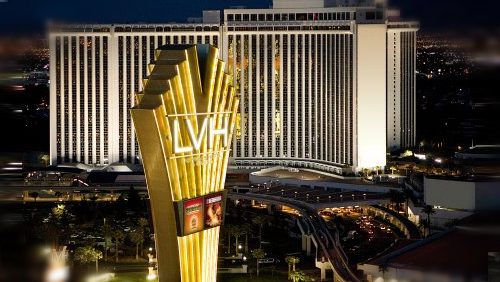 The Las Vegas Hilton SuperContest comes at just the right time every year because a seven-month itch is a pretty strong itch to scratch. That's the length of time that the NFL is effectively in shut down mode so you can understand when people do all sorts of crazy things when they can't get their usual Sunday fix of football.
For sports bettors, it's an especially excruciating time made more unbearable by the simple fact that the SuperContest is also hibernating.
But rest easy now, folks, because with kick-off set to happen in less than 24 hours, the SuperContest is back and raring to go.
For the uninitiated, the SuperContest is the brain child of the Las Vegas Hilton, now known simply as LVH, and is widely considered as the premier NFL handicapping contest in the world with the trajectory of its growing popularity being compared to the World Series of Poker.
That much was said by Steve Fezzik, the only man to win the SuperContest twice when he did it in back-to-back years in 2008 and 2009.
"The SuperContest has followed a similar path that the WSOP Main Event was on," Fezzik told CalvinAyre.com.
"For years, no one really paid much attention. There were mostly a bunch of good and very good players playing each other.  Then great players won multiple times vs. large fields (Stu Unger, Johnny Chan), and that woke people up to the fact that there was quite a bit of skill involved. Of course, the Chris Moneymaker 'average Joe' win then helped things explode when he upset Phil Ivey and others on TV."
According to Fezzik, that mainstream breakthrough could have happened last year had one ESPN personality entered the contest. "Colin Cowherd's Blazing Five picks last year would have likely won the contest," he said.
"THAT would have made this thing explode in popularity if he had been in the Contest."
Make no mistake: the SuperContest is still growing in popularity. Last year, a record of 745 entrants joined the contest and this year's numbers figure to exceed that too.
The SuperContest isn't as complicated as some people make it out to be. In fact, the rules are pretty simple if you have average comprehension skills. The entry fee is $1,500 and if you're going to enter the contest, you're going to have to register in person to do it. So if you're not from Las Vegas, you're going to have to circle at least one Sin City trip on your calendar in order for you to join the contest.
Once you've registered and the season starts, you're going to have to pick five NFL games each week using the lines provided by LVH. You can't submit your weekly picks online, which means that if you're not in the area, you're going to use a proxy to submit your plays for you. Don't be scared about taking this approach because the truth is, a large percentage of SuperContest players live outside of Las Vegas and as such, all of them use proxies of some kind when playing in the contest.
As soon as your proxy setup is settled, the mechanics on how the SuperContest is scored is pretty simple, too. For every cover you successfully picked, you get 1 point. Conversely, you get a bagel (not the real delicacy, but 0 points) and if your pick pushes, you'll get half-a-point (.5). If you finish the season with the most points in the contest, you win.
It's pretty simple once you get the mechanics down. But making the right picks consistently over the course of 17 weeks isn't as easy as a lot of people think.
"Don't just play your top 5 picks, without assessing the line value," Fezzik points out.  "You can love TB -3 @ Jets, but if they make the line -4, that play just went from a solid one to a questionable one. When I won in 2008, I went 54-26-5. I needed those 1/2 point ties to win; take away those hooks, and I lose by 1.5 points."
Take it from somebody who has won the SuperContest in the past, especially one who's done it in successive years. Using an Ouija board or a magic 8-ball to make your picks will send you home packing faster than a dead spirit replying with "fade the Jets on any game involving less than three points".
Understanding the way lines move throughout the week also plays an important role in determining what lines are going to merit serious consideration. You're not in any rush to submit your picks, anyway, because weekly selections are due at 11 a.m. local time every Saturday.
If you have an effective strategy that you're confident can get you far, the SuperContest has an expanded cash prize pool that will reward the top 30 finishers of the contest. Last year, the cash prize pool reached $1.1 million with "Al Sr." winning the contest and taking home a pretty handsome $447,000. "Jay Stones" came in as the runner-up and didn't do too badly for himself either, taking home $178,800 for his runner-up finish.
With the SuperContest's popularity surging by the year, it's easy to see why the contest has gained mainstream traction in recent years. Fezzik explains that with more players playing in the contest, it will lead to a bigger prize pool, which, in turn will also lead to more people joining in on all the fun.
One such person we talked to who is making his debut at the SuperContest is Matt Foust of CoverTwoSports.com. Already a sharp handicapper in his own right, Foust is entering the SuperContest to test his NFL mettle against the competition. "My NFL record the past two seasons prompted me to enter this year's contest," Foust told CalvinAyre.com.
"Went 92-51-4 against the spread on my 2011 NFL Picks and I hit 88-56-4 last season. Both of those totals include my playoff picks. And I won the Pregame.com Mock LVH Contest last year with a 54-30-1 record. Had I entered the real contest last year I would have tied for fourth I believe and won over $40,000. All of those things provided enough incentive to get involved this year."
Like Fezzik, Foust isn't planning on doing something over the top to make his picks. As far as his strategy goes, it's all about concentrating on making what he considers the best picks, even if they're not the so-called 'popular choices'.
"There are times when I'll take what is considered a bad line, a -3.5 favorite for example, if I really like the team to win," Foust adds.
"I feel confident those picks can give me an edge on occasion as not many guys will grab those lines. In that regard the contest is different than traditional betting or handicapping."
Such is what happens when the SuperContest opens up shop when the NFL season begins. You see strategies. You see risky plays being made. And you see a lot of people either hooting or groaning on Sunday afternoons.
But most of all, you see more and more people enter the Las Vegas Hilton SuperContest with every passing year. If you're one of them, remember to follow the rules and guidelines, make smart picks, and most of all, and enjoy the contest. Once you've got those things down, you might just end up holding up a big, fat "prop" check when the season's done.
Comments