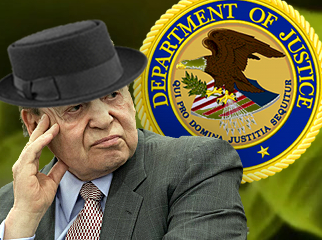 US casino operator Las Vegas Sands has taken legal action to evict a salacious tenant from its Palazzo property in Las Vegas. Sands attorneys have filed an injunction to prevent the operators of The Act nightclub from putting on their adult-themed entertainment, which consists of performers donning strap-on dildos and simulating sexual acts including bestiality, masturbation, urination and defecation (or, as that menu of mayhem is typically referred to around the CalvinAyre.com offices, 'Casual Fridays').
A lawyer representing The Act said Sands had "full knowledge of the nature" of the planned performances before the operators took up residence 10 months ago. He also argued that because the onstage activities in question were simulated meant there was no legal claim of impropriety to make against the club. (We suspect someone on stage was wearing a PokerStars cap or something, prompting Sands' boss Sheldon 'Heisenberg' Adelson (pictured right) to call for his thumbscrews.) The Las Vegas Review-Journal reported that District Judge Susan Scann is mulling whether the pseudo-outrage is sufficiently tawdry to allow Sands to terminate The Act's lease.
OH, THAT ILLEGALITY…
In far more pressing legal action, Sands has reached a deal with the US Attorney's office in Los Angeles to settle an investigation into allegations of money laundering. The Wall Street Journal reported on Tuesday that it had seen a copy of an agreement between the two parties in which Sands had agreed to fork over $47.4m but will avoid criminal prosecution for its dealings with a casino mega-whale whose stakes may have been of the ill-gotten variety.
The $47.4m is said to represent Sands' total earnings from Zhenli Ye Gon, a Chinese national who owned a Mexican pharmaceutical factory with alleged links to a methamphetamine production and distribution ring. In 2007, Mexican authorities raided Ye Gon's Mexico City residence, discovering a Walter White-worthy stack of money totaling well over $200m in various currencies. Ye Gon was arrested in Maryland shortly thereafter. The drug trafficking charges against Ye Gon were dismissed in 2009, but he has remained in federal custody while his lawyers attempt to fend off an extradition request from Mexican authorities, who have a few questions about that stack o' cash.
The DOJ took issue with Sands' utter lack of interest in why Ye Gon chose to use rinky-dink Mexican 'casas de cambios' currency exchange outlets to wire tens of millions of dollars to Sands casinos between 2005 and 2007. Sands always maintained that since Ye Gon's name wasn't on any financial shenanigan watch lists, they had no reason to suspect anything was amiss, which is why they never filed any suspicious activity reports. But Ye Gon had reportedly told Sands that he preferred to wire the money in drips and drabs rather than in lump sums because he "did not want the government to know about the transfers." Oops.
Sands has also admitted allowing Ye Gon to transfer his Mexican millions into an account intended for use by an aviation services firm, Interface Employee Leasing. The deal worked out with the feds requires Sands to curtail the use of such generic accounts and to conduct two years worth of reviews of its anti-money laundering policies, while keeping the DOJ up to date on its findings.
This isn't the first business practice Sands has agreed to amend as a result of DOJ investigations. In January, Sands agreed to curtail international money transfers on behalf of its foreign high-rollers, many of whom had moved money between Sands properties under assumed names. That investigation stemmed from the revelation that Sands had transferred $100k from Las Vegas to Macau in 2009 on behalf of an alleged Sun Yee On triad leader. (Another alleged Sun Yee On figure was just arrested in Hong Kong for operating a chain of illegal mahjong parlors.)
Sands isn't out of the woods just yet, as Nevada gaming regulators will now seek to determine whether Sands' activities breached the state's Foreign Gaming Act. A Sands spokesperson said the deal with the DOJ demonstrated that the casino company's cooperation had been "recognized clearly" by the feds. Sadly, Sands doesn't appear to have attempted to mount a 'Sheldon is the one who knocks' defense, but just wait until 2016 when Adelson gets his own man in the White House – and a new attorney general, to boot – and starts calling in some markers. Until then, tread lightly…