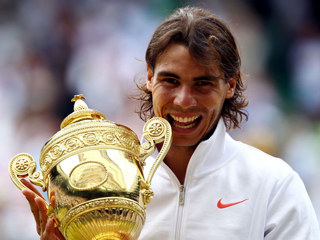 It has been 14 months since Rafael Nadal joined Team PokerStars Sports as their latest ambassador. Since that meteoric announcement the Spaniard's association with the game has been primarily online based, as he continued his recuperation from a knee injury that kept him out of the game for seven months; but all that is set to change.
The 12 time Grand Slam champion, and world number two, is scheduled to appear at the European Poker Tour (EPT) festival in Prague, this December, an event that last year saw Ramzi Jelassi take the EPT Main Event title and €835,000 in prize money.
There has still been no announcement on whether Nadal will participate in the main event, or a side event, but either way his presence is sure to attract a collection of media cameras the likes of which the EPT has never before seen.
"I am competitive in general…in life…I love the competition. I like to win." Said Nadal.
PokerStars have released a short video documenting Nadal's learning process.

No More Flat Batteries at EPT EventsThe EPT have announced a partnership with the battery giant Duracell that will see them providing free power sources for mobile devices at Season 10 events.
The deal will see Duracell Powermat supply the players with wireless charging 'hotspots' that will be available for all players participating in an event. The tables have been custom designed to include a Duracell Powermat charging mat. Players who already own a Duracell Powermat phone case can simply drop their phone on the device while they play, whilst special power connectors will be made available to players who do not.
EPT President Edgar Stuchly said: "Smart phones are an essential part of a live tournament player's kit, and a dead battery can be a disaster if you're seated for hours at a poker table. The EPT prides itself on offering the best player experience of any poker tour, so providing individual wireless charging for each player at the table is a natural progression to free Wi-Fi, which we introduced in Season 9."
It's a great, yet simple idea that will be warmly accepted by the players. EPT Season 10 will kick start at EPT Barcelona on Mon 26th Aug. The Main Event will run between Sep 1-7.