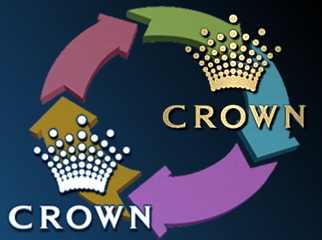 Australian casino operator Crown Ltd. will soon be known as Crown Resorts Ltd. if boss James Packer has his way. Crown will seek permission from shareholders to order new business cards and stationery when the company convenes its annual general meeting on October 30. Crown says the change is necessary given its significant emphasis on "tourism infrastructure" and its "expanding domestic and global investments."
Judging the mood of those shareholders will be difficult, given that Crown's revenue in the 12 months ending June 30 rose 3% to A$2.89b but profit fell 23% to $395.8m. The results were dragged down by $99.4m in one-time charges, including $69.6m stemming from the loss-making sale this May of Crown's 10% stake in rival casino operator Echo Entertainment. The Echo holdings became unnecessary after Packer accurately surmised that he was on his way to winning the war with Echo over its Sydney casino monopoly.
Despite the profit fall, Crown's shares were up almost 7% in Friday's early trading, flirting with an all-time high since the company went public in 2007. Investors were apparently able to look past the impact of the Echo loss and other one-off items, the absence of which would have meant Crown's underlying profit was up 14% to $473.2m. Crown's stock is up 35% for the year.
Regardless which figure you use, most of Crown's positivity comes from the $175m in profit earned via Crown's one-third stake in the Melco Crown Entertainment joint venture, which operates casinos in Macau and is building another in Manila's Entertainment City development, which is set for a mid-2014 opening.
The international gains stood in stark contrast to domestic operations, which suffered from what CEO Rowen Craigie dubbed "weak consumer sentiment." Earnings at Crown Melbourne fell 3% to $547.1m as mass market gaming revenue was flat and a lower win rate negated a 9.2% rise in VIP gaming revenue. Crown Perth's earnings were off 11.1% to $240.8m, despite mass gaming and VIP revenue up 9.7% and 3.3% respectively, as rebranding costs and the launch of a new gaming floor drove up costs. Crown Aspinall's reported earnings of $26.5m. In non-casino news, Crown's 50% stake in the Australian division of betting exchange Betfair resulted in a net loss of $1.5m.
Looking ahead, Craigie said "cost control" would be a focus at all its domestic properties. In addition to moving forward with its proposed VIP-focused casino in Sydney's Barangaroo district, Crown is hoping to expand into Brisbane, potentially placing another current Echo stronghold under siege. Craigie said Brisbane was "clearly an opportunity," in that "the more options Australia can give the Chinese high-roller, the better." Craigie took a swipe at Echo by noting that Perth is currently attracting five times the number of Asian VIPs than Echo's "under-performing" Brisbane casinos.
But Crown Perth's planned $570m six-star hotel expansion plan may be held up after a couple dozen Burswood residents won a Supreme Court ruling on Thursday. The plaintiffs had protested Crown's expansion plans, which they believe will ruin the views from their residences, and the Supreme Court has now ordered the West Australian government to hand over sensitive documents relating to the sale earlier this year of the land on which Crown wants to build. Depending on what the residents find in these documents, a Supreme Court challenge of the $60m land sale could be in the works.