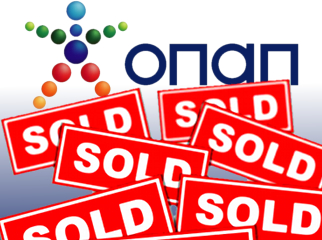 The word 'delay' has been one of the most oft-used words when discussing the matters involving the sale of state-controlled gambling firm OPAP to Greek-Czech fund Emma Delta. There's been one after another over the past few months, and the way things were going, it appeared that a conclusion to this episode would drag on way past Breaking Bad starts running on syndication.
But, somehow, a huge development took place earlier this week when Greece finally completed in selling 33 percent of its OPAP stake to Emma Delta for 652 million euros (roughly around $870 million), drawing to a close, or so it seems, a months-long saga that saw its fair share of mud-slinging from opposing investors over the fees the gambling firm would have to pay its partners.
The sale of a significant chunk of shares in OPAP to Emma Delta was brought about as a condition of Greece's asset sales program that was put into motion as part of its multi-billion international bailout. With the country under intense scrutiny from lenders to privatize state assets as part of bailout conditions, the onus was on Greek authorities to push through with the sale to meet the said reform targets and, more importantly, douse the growing firestorm of controversies it has caused through its waffling actions.
Remember, it was only a month ago when the head of Greece's privatization agency warned that the OPAP-Emma Delta transaction was at risk of coming unglued because the latter wanted to pursue changes to an earlier €190m deal concerning the government-run gambling agency's decision to award a 12-year state lottery license to an OPAP-led consortium that included Greek lottery tech provider Intralot and US lottery outfit Scientific Games. Emma Delta not only wanted to lower service fees OPAP was required to pay Intralot and Scientific Games, but it also questioned why those providers were bestowed veto rights on board decisions regarding the operation of the lottery.
But with urgency knocking on its doorstep demanding a resolution be made at the soonest behest, the onus was on Athens to officially complete its sale of a chunk of OPAP shares to Emma Delta, lest it feels the wrath of the International Monetary Fund and the European Union, both of whom have taken to keenly observing the proceedings to see if they needed to step up and force Greece's hand even more.
Comments