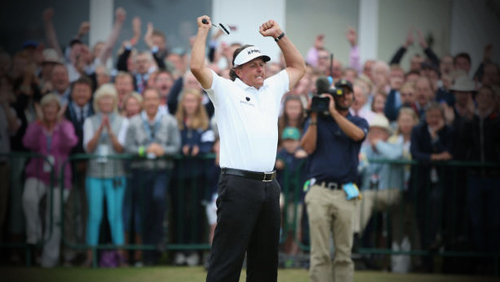 Five weeks removed from yet another disappointing US Open finish, Phil MIckelson was set to tee off for the final round of the Open Championship. He had barely registered a blip on the radar all weekend because as is always the case, everybody wanted to talk about Tiger Woods. And for all intents and purposes, the day was supposed to be a duel between Woods and Lee Westwood.
But those two, along with a host of others who were high up on the leader board entering the final round, put on some of the most erratic and abysmal rounds you'll ever see. Whether it was misplaying drives and missing putts, everybody was scrambling and seemed rattled by the daunting task of making less mistakes than the other.
Everybody except Phil Mickelson that is.
It only seemed appropriate that for somebody who has lived in the enormous shadow of Tiger Woods, Lefty was cast into the background yet again. And with the spotlight firmly planted on other players, he went to work on Muirfield like nobody's business, registering a final round 66 (lowest round of the tournament) and rallying from five shots down to win his first ever Claret Jug.
Entering the tournament, Mickelson was a healthy 25/1 to win his first Open title. When the final round started, he was still at least 10/1 to take it home yet nobody was the wiser. It was all about Tiger's latest chance to win his first major since the 2008 US Open. Westwood also got some prime time in the discussions. Even unheralded dudes like Stenson, Zach Johnson got more burn on the news than Mickelson.
But as the final round unfolded, it became pretty evident who was going to steal the show. And steal the show Phil Mickelson did, playing arguably the most spectacular round of his career on his way to conquering one of the hardest and most treacherous golf courses this side of Merion. Of the last 11 groups who teed of in the final round, Mickelson was the only one to break 70, an achievement made more impressive by the fact that he did so while shooting four strokes under that number. His back-nine performance was arguably the finest stretch of golf he's ever played, hitting four birdies in his last six holes and finishing the last nine holes with only 32 strokes.
And so with all the leaders cranking wayward drives and making far too frequent trips to sand traps the whole day, Mickelson watched the carnage unfold before him, knowing that while everybody else was firing blanks, he was firing on all cylinders and putting a resounding exclamation point to what eventually became a dominant final round that ended with him lifting his first every Claret Jug. This was Phil Mickelson coming out of the shadows, trampling everybody that stood in his way, and resoundingly winning one of the two majors that he had yet to take down in an otherwise Hall of Fame career.
But with his Open Championship win now in the history books, Lefty now moves one step closer to competing the elusive career Grand Slam. He's already won three Masters, one PGA Championship, and now adds this to his name. The one major absent on his resume is the US Open, the same major where he's finished runner-up an unbelievable six times.
Maybe next year he'll follow the same script in Pinehurst.