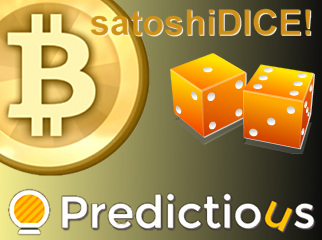 SatoshiDice (S.DICE), the pioneering online gambling site that utilizes the Bitcoin crypto-currency, has been sold to an unidentified buyer for ฿126,315 (around US $11.5m). The sale, which was announced Wednesday by owner Erik Voorhees on the BitcoinTalk forum, equates to ฿0.00126315 per share, a 175% premium to the company's present share value on the MPEx Romanian Bitcoin securities exchange. However, SatoshiDice is adding a further ฿0.00223685 per share, bringing the total per share price to ฿0.0035, representing a 277% premium over the MPEx value.
Voorhees acknowledged that many SatoshiDice shareholders might have preferred the company remain in its founder's hands a while longer, and thus he hopes the added premium for public shareholders – which is nearly 3x the value private owners will receive – "will be amenable." The mystery purchasers will assume "all ownership, operations and management." SatoshiDice launched in April 2012, went public in August and reported earnings of ฿33.3k (the equivalent of $574k at the time) by January 2013.
This May, SatoshiDice followed the lead of many of its fiat-currency competitors by blocking customers using American-based IP addresses in a bid to "limit legal risk … and thereby protect … stakeholders." At the time, a SatoshiDice spokesman told CoinDesk that the company "must take the coercive threat of government seriously." The timing of the move coincided with US federal authorities taking action against a US subsidiary of the Mt. Gox Bitcoin exchange, although SatoshiDice denied that its decision to avoid US transactions was in any way related to these enforcement efforts, saying only that it was "a proactive measure" and "a wise move for the site to perpetuate in the long term."
SatoshiDice's servers are located in Dublin, Ireland, which also happens to be the home of a new Bitcoin predictions market, Predictious. Backed by start-up firm Pixode Games, the company seeks to fill the void left by the abrupt closure earlier this year of Dublin-based InTrade, the fiat-currency predictions market. Like InTrade, Predictious offers markets on everything from popular entertainment to politics. Unlike SatoshiDice, Predictious celebrates its users' capacity to "trade anonymously and from anywhere in the world," although Pixode CEO Flavien Charlon has signaled that the company would consider blocking US customers if the Commodity Futures Trading Commission (CFTC) raises a fuss (which, if past is precedent, is likely being typed up this very second).