Day Five of the $10,000 No Limit Hold'em (NLHE) World Series of Poker (WSOP) Main Event has ended and it's a fairytale for Sami Rustom, as the amateur from California leads the final 68-players with over 7m in chips.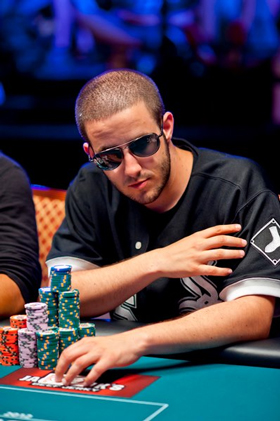 Rustom leads the Canadian Marc McLaughlin by just 10,000 chips, a man who seems to have this tournament in his back pocket with deep runs in 2009 (30th) and 2011 (86th). With just under 7m in chips it looks likely that the Canadian will make his deepest run yet.
Day Five was another humdinger of a day that seemed to move faster than a roadrunner beep beeping past a coyote. The ESPN cameras were firmly entrenched on the 2012 World Champion Greg Merson who was trying to achieve the impossible by becoming the first man to win back to back main event titles since Johnny Chan achieved that same feat in the 1980s. Merson would have a fantastic run, but it would end in 167th place, a fantastic achievement nonetheless.
Merson told CalvinAyre, "It was one hell of a run and I'm happy with the results I have had. In tournament poker there is only going to be one person who is really truly happy. But after getting through 6,352 players to finish in the top 200? That's an accomplishment…that makes me really happy."
Merson's exit means there is only one former champion left in the field. 'The Matador' Carlos Mortensen likes to save his best for the very best, and he eliminated Marvin Rettenmaier on his way to a mid-position finished with over 2.6m in his plastic bag. Mortensen last won this event back in 2001.
Ronnie Bardah was another man who was drawing a lot of camera lenses. The Floridian made a little bit of history as him and Christian Harder equaled Chris Bjorin's record of four consecutive main event cashes. Harder would fall early on Day Four but Bardah would stretch his legs that little further. When the end came it was a nasty shock for Bardah as he lost his short stack shove with aces, losing against the [Kc] [Tc] of his opponent when the board ran out with more clubs than the Las Vegas Strip.
There is only one lady left standing in the event and that's Jackie Glazier who also cashed in this event back in 2010 (427th) and 2012 (264th). Glazier will start the sixth day of action with a little over 4m in chips; and if Merson's run was special then spare a few words for Steve Gee, the man who finished ninth at that final table is in with a shout of making back-to-back final tables. Gee is in the mix with 1.3m chips.
There are still so many great players in the field that include Noah Schwartz, Benjamin Pollak, Yevgeniy Timoshenko, David Benefield, Vladimir Geshkenbein, Byron Kaverman, Bryan Pellegrino, Steve Watts, Yann Dion, JC Tran, Amir Lehavot and Vitaly Lunkin.
Comments