This my third World Series of Poker (WSOP) and each one has a familiar pattern to it. I arrive and start my balance of writing and playing. The first session is always a loss, followed by another loss. Suddenly, I am chasing, I am desperate and I worry. I worry about my level of skill, I worry about my energy, I worry about what my partner will think of me, I worry about my mental attitude but most of all I worry about the time and money that I am wasting.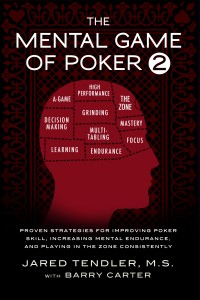 I watch enough poker to understand the difference between right and wrong. This is not my problem. I have a lot of technical flaws, of that there is no doubt, but it's the mental anguish that is forcing me to lose session after session. It's a horrible, sick feeling that no matter what I do I just cannot win a pot of any significance. It is a mental problem. I need help with my mental game.
"You don't have a psychic ability. Why do you think you are psychic?" Jared Tendler asks me as I discuss my problem with him.
Jared Tendler is the one voice that you should listen to when you feel the need to discuss your mental game issues. He has a master's degree in psychology, but most importantly, he has a life degree in understanding people. Having worked with him in the past I can testify that as a coach, he is a great person to work with.
Last year people were waxing lyrical about the release of his first book: The Mental Game of Poker. It continues to be the most important poker book in my collection. It's more Tommy Angelo than Doyle Brunson; and it's covers a part of the game that I still believe poker players tend to brush aside as a problem that isn't a problem. I think it's the machismo that poker players have.
Mental game problems? Me…that's for sissies.
When Justin Oliver won Event #38: $2,500 No-Limit Hold'em (NLHE) Four-Max he achieved a lifelong dream to win a WSOP bracelet. During his post match interview he was clear as crystal as to the man responsible for his recent success.
"My mental game is tough, but it wasn't always like that. It used to be terrible and I used to go tilt and go insane all of the time. Then I met Jared Tendler and he coached me on the mental game and I don't tilt anymore. It didn't matter what happened during this event. I just didn't get upset. I just let the cards fall where they may and just concentrated on making the best decisions that I could."
Tendler is in town, not only to be a support for clients like Justin Oliver, but to also promote the sequel to The Mental Game of Poker; the imaginatively titled The Mental Game of Poker 2. So what exactly are the readers going to get out of the second book?
"The first book is about eliminating the worst parts of your mental game, and the second book assumes that you are mentally ready, after eliminating those mental issues from your game. The second book is about, right how good can this poker player become? It's about making your 'A' game even better. Preparing you to play in the zone consistently. Poker players don't tend to know when this happens. They don't understand the mental process that facilitates them to be tactically right at this mental level.
"Another big part of the book is about learning. As a poker player your edge isn't permanent. If you are not improving at the rate of your opponent's you are at risk of being blown out of the game. Finally, I cover ways to improve decision making, focus, mental endurance, self discipline and try to encapsulate ways that poker players can improve to be the best that they can."
So after so many years in the business, where Tendler has helped some of the greatest players in the game; what are the common problems that Tendler's sees most frequently?
"Tilt is still by and large the biggest issue that I see. But recently there has been a surge of people who have been coming to me who are not embracing the reality of their own situations. They are too defensive. People need to be honest with themselves. If they have been tilting and have been trying unsuccessfully to fix it, then you don't understand the problem yet. It's not that you're stupid, or lazy, you just don't understand the problem yet. It's not personal. If you can get out of your own head, look at what's happening and try and problem solve instead of blame, block out, detach or avoid the issues, you will allow yourself to open up and learn and find the solution to your problem. So I guess I am seeing a lot of players that are resistant to the reality that they have a lot of problems."
But I know I have a problem. I am open to the reality of my problems. Maybe Tendler can help me find a winning session?
"I am a Mental Game Coach Lee…not a miracle worker."