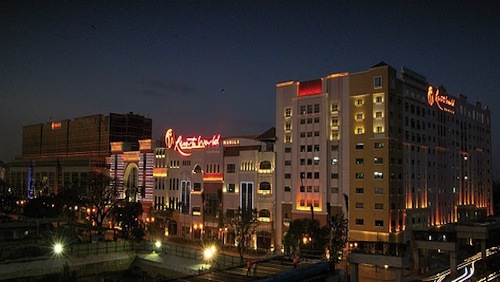 Travellers International Hotel Group Inc., the company that operates Resorts World Manila, has finally been granted approval by the Philippine Stock Exchange to pursue an IPO application that could be worth as much as Php42 billion. That's the good news. The "let's-wait-to-see-what-happens" news is Travellers decision to postpone the capital-raising exercise because of the current global market conditions, which , in a word can be best described as 'volatile'.
Upon being granted approval by the PSE, Travellers initially planned to do the public offering in the third quarter of 2013. But with the unpredictable nature of the global economy these days that has seen global companies leave emerging markets in anticipation of the US' rebounding economy, Travelers decided to hold off on the anticipated public debut, opting to wait it out at least until favorable market conditions return. At that point, Travellers would be all-systems go in resuming its IPO offering.
The company, which is a joint venture between Alliance Global Group and Genting Malaysia, is looking to drive up fresh sources of funds to help finance its $1.1-billion Resorts World Bayshore integrated resort and casino that will be part of the country's Entertainment City.
The plan, at least until the company temporarily held it off, was to offer up to Php1.573 billion to the public in new common shares priced at Php23.28 per share with a suggested base offer of around Php36.78 billion. Taking the over allotment option of Php235.98 million shares into consideration, the public offering would account to about 13 percent of the company's total outstanding shares, amounting to about 14.159 billion shares after the IPO.
The PSE's approval to pursue an IPO application is a huge boost to the company's planned development of Resorts World Bayshore. Travellers is playing the safe and smart card in holding off on the offerings, too, opting to let the waves of the global economy die down before heading out into the water.
When that time comes, the company is prepared to get the ball rolling, even tapping some of the biggest financial institutions – UBS, BoFA Merrill Lynch, CIMB, Maybank ATR Kim Eng and Religare Capital – to help arrange the IPO offering that Travellers hopes will contribute a significant chunk in the development of the enormous Resorts World Bayshore complex in Entertainment City.
Comments