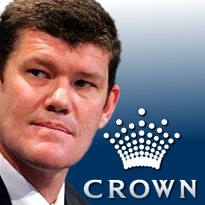 Crown chairman James Packer is under no illusions that for his company to receive strong returns from its proposed $1.3 billion integrated hotel and casino project in Sydney, the company must get more from the international high-roller gambling market. And the man isn't talking about doubling Australi's VIP share, but actually tripling it.
It's an ambitious target, one that Packer is fully aware of, but the man has never lacked in confidence so setting the bar this high isn't a new endeavor for him. "The economics on this project are tough," Packer told the Financial Review. "It involves Crown making some really significant assumptions along the line of tripling the value of international VIP business coming to Sydney, so when your business case is you are going to triple the size of the market, by definition you are making a guess."
"That's what we have to do to get an adequate rate of return."
Taking this scenario into equation, Packer expressed confidence that the company can chip away from the enormous high-roller market in Macau, Singapore, and to a lesser extent, the Philippines. Macau and Singapore, in particular, account for a combined 92 percent of the revenues generated by the international VIP market.
At the moment, Australia's VIP market sits at a pretty pedestrian 2.5 percent, a number that's nothing to sneeze out but also nothing to get excited over. For Packer's Crown to receive that "adequate rate of return" he was talking about, that percentage of the Asian VIP business should improve to at least 4 percent.
Talking about the reaching the target is one thing, but actually doing it is easier said than done, especially with the restrictions imposed on the proposed Crown Sydney casino. For one, the establishment is banned from offering any kind of poker machines and total floor space is restricted to the lessor of 20,000 square meters or 20 percent of the total floor area. Having said that, the casino will still come with 120 tables and the baccarat, blackjack, and roulette tables will all have minimum bet limits of $30, $20, and $25, respectively.
But with only 120 tables at their disposal and supposedly no slot machines, the onus is on Crown to make the most out of each of those tables.
"I think that you've got to take a step back and remember there has never been a casino in the world built for what this casino is going to cost without slot machines," Packer said.
But even with the challenge firmly in front of him, James Packer is still confident enough – or at least, ambitious enough – that the proposed Crown Sydney can pull it off. He's made a career at setting and reaching targets; who's to say he can't do it again?
Comments