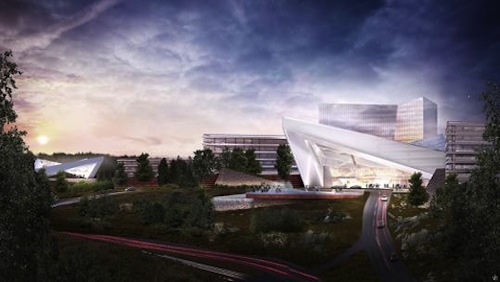 With Wynn Resorts already on the inside track to secure one casino license in Massachusetts, the competition for the Western Massachusetts casino license appears to be heating up.
One of the contenders to secure the license is Mohegan Sun and it's ramping up its casino proposal with the unveiling of a more elaborate plan for its $1 billion proposal in Palmer, Massachusetts.
The Connecticut-based company unveiled the latest rendering of its massive casino plans, which apparently now includes a slew of entertainment options, including an indoor and outdoor water park that will be connected to its own 250-room hotel to go with an enormous retail space, and an expansive cinema complex that is likewise linked to the complex's casino on one side and another hotel on the other.
"We want it to be reflective of the Mohegan Sun brand, but its own destination," Mohegan Sun chief executive officer Mitchell Etess said, as quoted by the Associated Press.
Despite being situated in a rural area of Palmer, Mohegan Sun's casino proposal will be built on a wide expanse of land that covers 152 acres and situated just off of the Massachusetts Turnpike, making it easily accessible to anyone in the state. The $1 billion proposal initially was pegged at $600 million but Mohegan Sun has been aggressive in ramping up the the design and development of the integrated resort and casino to include a bevy of new amenities that would make for a more competitive proposal relative to the two other operators – MGM Resorts International (Downtown Springfield) and Hard Rock International (Western Massachusetts) – vying for the single Western Massachusetts casino license.
Etess isn't admitting that the improved proposal comes as a competitive response to its rival operators, opting for the more diplomatic route of claiming that its improved proposal is means to showcase the place as "a true destination resort that would be capable of driving business … from out of state."
Whether its proposal piques the interest of the Massachusetts Gaming Commission is another thing, but for what it can control, Mohegan Sun is determined to put its best foot forward – regardless of the results.
Comments