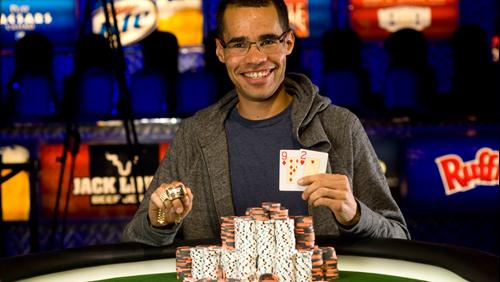 I'm not a devout follower of Anthony Gregg, so I'll say this about the man. He either has an appalling live cash record, or he is very selective about which events he participates in and then dominates each one he enters. After watching him win the largest event of the World Series of Poker (WSOP), thus far, I think it's the latter.
Gregg looks like the product between Barack Obama, Michelle Obama and Bill Perkins. More choirboy than degenerate gambler, more top class honor student than glue sniffing pothead; and now he is the proud owner of the WSOP gold bracelet and $4,830,619 in prize money courtesy of his victory in Event #47: $111,111 One Drop High Roller.
The action started four days ago when 166-players each dug deep to create a total prize pool of $17,891,148. It was a field that far surpassed everybody's expectations, creating over $500,000 for the One Drop charity and handing out no fewer than five seven figure cashes.
The rail within the Amazon Room was that deep you would have sworn The Beatles were about to let rip with a rendition of Hey Jude. The autograph hunters were out in force and the only big time Charlie who was incredibly stupid enough to miss the event was Mr. WSOP himself – Phil Hellmuth.
"I had the chance to free roll in this event and I turned it down. After finishing fourth in the One Drop, last year, it was a silly decision not to play. I think I out-stubborned myself." The great man told the PokerNews sideline reporter Lynn Gilmartin.
I'm not sure what the Aria have been putting in Hellmuth's side orders, but to miss a free roll worth $111,111, with over $4.8m up top and only 166-players separating you from a WSOP bracelet – there must be some other reason that you skipped this event. It was not a silly decision; it was a downright ridiculously stupid decision. Everyone who was everyone was trying to put together a package to play in this event; for some it was mere pocket money, but Hellmuth's decision not to play was startling in the extreme.
The One Drop was not a new event for Mike Sexton, after the Poker Hall of Famer finished ninth in the million-dollar version this time last year. He started off proceedings back on Day One to the right of Isaac Haxton in a classic youth versus experience confrontation. Haxton looking a little like Clark Kent behind his slick black hair and black rimmed glasses, but in the few hands I saw him play out his x-ray vision must have malfunctioned as Sexton started to build his stack.
Two of the most successful players in the modern era of British poker started off playing at the same table. Sam Trickett took over $10 million from his last One Drop experience, and he was sharing table space with Jake Cody and that man Johnny 'Fucking' Chan.
Bill Perkins started like the proverbial house on fire. He had Jean Robert Bellande in stitches after winning a hand with only three-high.
"Bill…you do realize that three high isn't a good hand even if it's suited." Said Bellande.
"Fuck'em," Joked Perkins.
The Germans were en force with the likes of Tobias Reinkemeier, Philipp Gruissem, Fabian Quoss and Igor Kurganov all taking part in a format they have owned over the past few years. Quoss and Kurganov sharing a table with Yevgeniy Timoshenko and all three of them had the look of James Bond villain about them.
Michael Mizrachi was in the mix. The Grinder was wearing more patches than a Formula One Racing Car Driver, and who put Phil Ivey in the corner? Seriously, don't the tournament organizers know who this man is? Phil Galfond looked like a stunt double for The Wolverine, Bryn Kenney looked like a member of N.W.A and then there was Tom 'Durrr' Dwan who still has one of the most impressive auras around a poker table.
With everyone – except Hellmuth – taking part in this event, the winner would have certainly earned their corn. At the end of the first day of action the man with the chip lead was Brandon Stevens; the man responsible for blowing away the aura of Tom Dwan like a puff of cigar smoke. Also through to the second day of action were the likes of Reinkemeier, Ben Lamb, Bobby Baldwin, Daniel Negreanu, Anthony Gregg, Chris Klodnicki, Antonio Esfandiari and Bill Perkins.
The second day of action saw Martin Jacobson zoom to the top of the pack when the Swede bagged up over 3 million chips. The man with the chiseled jaw was happy, but he was one of the only ones as the day ended in annoyance as Jack Effel refused to bow to peer pressure and allow the superstars to continue playing until the money bubble burst. That meant 26-players would come back for Day Three and amongst them was the Big One for One Drop winner Antonio Esfandiari, Anthony Gregg, Chris Klodnicki, Bill Perkins and Shaun Deeb.
Haralabos Voulgaris and Yevgeniy Timoshenko were the first two players eliminated on the third day of action – the latter being crowned bubble boy – and that meant the remaining 24-players could breath a sigh of relief with a min-cash safely stowed away. We then lost the likes of Steve Gross, Phil Laak, Shaun Deeb, Andrew Lichtenberger and Mike Sexton before the elimination of Olivier Busquets in ninth place created our final table.
Incredibly, it was once again Antonio Esfandiari in charge of things as we entered the serious end of the money. Could The Magician make it a second One Drop success in consecutive years? Joining him on that final table in descending order of chips was Martin Jacobson, Chris Klodnicki, Richard Fullerton, Nick Schulman, Anthony Gregg, Bill Perkins and Brandon Steven.
Richard Fullerton's ace-queen would prove too much for Schulman's ten-nine suited, Bill Perkins ace-jack would be too powerful for the pocket sixes of Brandon Steven, Anthony Gregg's pocket queens would overcome the ace-jack of Jacobson and Antonio Esfandiari and pocket tens would dispatch Richard Fullerton's pocket sixes to the stands to send us into a fourth day of action with just four players remaining: Bill Perkins (14.7m), Anthony Gregg (13.9m), Chris Klodnicki (12m) and Antonio Esfandiari (9.2m).
The first player eliminated on the final day of action was Esfandiari. He got it in good with his pocket eights racing against the ace-nine of Chris Klodnicki, but an ace on the river sent a stunned Esfandiari to the rail. Perkins was next to go. The one-man poker show had his tournament lights dimmed by Gregg. It was ace-queen for Gregg, ace-five for Perkins and despite a five on the flop giving the businessman an early lead, the queen on the river put things right and we were heads-up for $4.8 million.
Going into the heads-up encounter it was 31.2m chips for Gregg and 18.6m for Klodnicki and the chip advantage made all the difference. In the final hand of a memorable event Klodnicki limped from the button and Gregg checked. The dealer gave them both a [9h] [4d] [3c] flop, Gregg checked, Klodnicki bet 500k, Gregg check-raised to 1.4m, Klodnicki moved all-in and Gregg called. It was [9d] [2h] for Gregg and [7s] [5d] for Klodnicki. The [5h] on the turn gave Klodnicki several more outs, but the [3s] on the river ended Klodnicki's hopes and he was left with the not too shabby consolation prize of $2,985,495.
Gregg, meanwhile, was our latest One Drop champion taking home $4,830,619 and a WSOP gold bracelet.
"I had high hopes for this tournament and it was like a real roller coaster ride. I have been telling my friends that I was going to win for several months and it came true." Said Gregg after the biggest win of his career.
And how did the End Boss celebrate? He walked over to the cash desk and registered for the $25k NLHE event. End Boss? He should change his name to What a Boss!