The 2010 World Series of Poker (WSOP) was the year of the Brits after Steve Jelinek, Mike Ellis, Richard Ashby, James Dempsey and Praz Bansi took gold amongst a series of impressive results from the lads and ladies from the land of the U and K.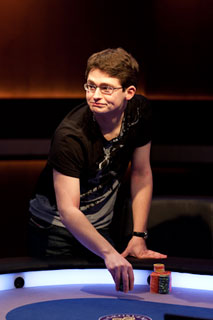 Amongst the hoardes of traveling that year was a young online cash grinder from Scotland called David Vamplew. He secured his first live cash playing in the $2,500 No-Limit Hold'em (NHLE) event, creating a $6,071 score that whetted an appetite that would have its fill just a few months after the series became nothing but a memory.
Vamplew returned to the UK, and suddenly, instead of staring at a computer screen full of avatars, he found himself staring across the felt at a man who had won over $12 million in live tournament earnings, and had secured five WSOP bracelets: John Juanda. The location was London, the event was the European Poker Tour (EPT) and the prize was $1.4 million.
"I look back on that win now and think how on earth did I do it…I made so many mistakes." Said Vamplew.
We are sat on a bench outside the kitchen in the Rio talking about all things poker. He has just busted from the $1,500 Shootout; an event he seems a little nonplussed about, and he is about to head back to his house where he will no doubt have a prep talk with his housemates Dominik Nitsche, Rupert Elder, Melanie Weisner, Andrew Teng and Scott O'Reilly. The six of them are sharing a house for the second consecutive year, and if anyone in the house is smiling its the Scotsman; who is free rolling the series after finishing second in Event #2: $5,000 NLHE 8-Handed for $342,450 – the same sort of event that he became famous for back in 2010.
Vamplew has matured a lot as a player in the past three years, prompting the Ivey Poker pro Mathew Frankland to recently call him one of the best tournament players in the UK.
"Wow…that is a compliment if its come from Franky" Said Vamplew alluding to the fact that Frankland thinks everyone in the world of poker is crap except for himself, Phil Ivey and now it seems David Vamplew.
This is what he had to say.