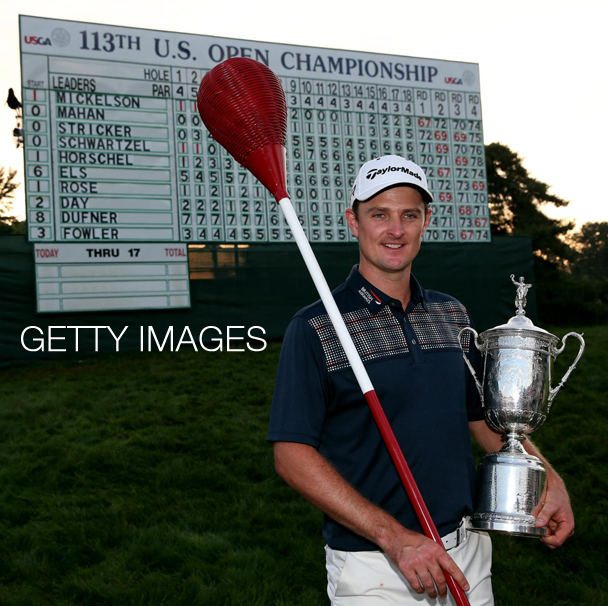 Justin Rose will forever remember this year's US Open as being the first of numerous major titles coming this way. But brush aside the hardware and the adulation that'll come his way and its easy to get emotional seeing a man who has been through so much in his life, including losing his father, coach and caddie, Ken, 11 years ago, finally receive the ultimate vindication of his golf career.
Entering the tournament at 25/1 odds to win the title, Rose did enough in the first three rounds of the US Open to stay at arm's reach of the leaders. Merion, in all its brutal glory, certainly played its part, eviscerating the world's best golf players into submission and providing the kind of drama that makes golf the game that it is. But Rose gamely kept his scorecard afloat, steering clear of any double-bogeys that ruined so many scorecards during the tournament.
And when it was time to hunker down and put the big boy knickerbockers on, Rose, well, 'rose' to the occasion, hitting on five birdies to offset the five bogeys he had through the first 16 holes of the final round before sinking a pair of par putts on 17th and 18th to give himself some breathing room over the collapsing Phil Mickelson.
Ultimately, no amount of comebacks from Mickelson would undo Rose's handiwork. The latter finished 1-over par for the entire tournament, a score that would normally be categorized as abysmal on any other course other than the murderous Merion. Rose finished two shots ahead of Mickelson and Jason Day, this earning, in every sense of the word, his first ever golf major.
And what about poor Phil Mickelson. He's become the poster bridesmaid of the US Open, finishing second in the major a ridiculous six times now. And on this day no less. Father's Day. His 43rd birthday. The story should've been about Phil finally conquering the US Open after all those near-misses. Yet happy endings are only made if people make them so. Phil Mickelson, his best chance of finally exorcising all those US Open demons, failed to do so.
This was the kind of drama Merion inflicted on just about everybody who swung a golf club these last four days. In the first round, it immediately became known that the 2013 US Open wasn't going to be about a test of skills; it was going to be about the test of wills.
And after four days of some of the most brutal rounds of golf you'll ever watch get played, it was Justin Rose who found himself closest to par. Phil Mickelson was there for the first three rounds but he failed to sustain it, losing out another US Open that has become his own personal unicorn.
When it became apparent that survival became the name of the game at the US Open, it was Justin Rose who came out of the heap of all the battered and beaten golfers with his legs still seemingly intact. Battered, bruised, but hardly beaten, Justin Rose took Merion's best shots – and survived.