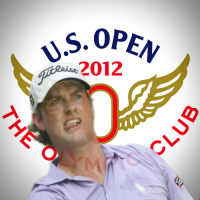 You know that saying hindsight is always 20/20? Well, if foresight was anywhere close to that, we would have sold our lots and put all the proceeds on a 25-year old American to win the 2012 US Open at 50/1 odds.
Little known Webb Simpson – yeah, we know…who? – came back from out of nowhere to win the 2012 US Open, paying out his backers, however many they are, with 50/1 odds to win the championship.
Even if you weren't able to capitalize on that generous line before the tournament started, you could've still gotten him at 28/1 odds entering the final round. The people that did have him on their radar, let alone knew his name, should all be celebrating with booze in hand because that's about as improbable a cash out as they'll ever have.
Simpson entered the final round tied for 8th at +3, four shots off of leaders Jim Furyk and Graeme McDowell, both of whom sat at -1. With two bogeys in the first five holes, it didn't even look like Simpson would crack the top 10, let alone get his name across every news ticker in the world today. But then came a run of holes you don't usually see from a guy being handed 28/1 odds in the final round.
Birdie at 6. Birdie at 7. Birdie at 8. Par at 9. Birdie at 10.
And just like that, Simpson was in it to win it.
After his round, the 25-year old was sitting on a one stroke lead (+1) and waiting for Furyk and McDowell to finish their rounds. The tournament-long front-runners made it really interesting, too, particularly the latter who had a chance to tie Simpson at the 18th hole with a 24-foot par to force a play-off.
But he missed, finishing at +2 to give Simpson his first major title and third overall.
Tournament favorite Tiger Woods was on the leader-board for the first two rounds, but when weekend came, he turned into "Kitty Cat" Woods, falling out of contention with two horrible rounds, flushing a whole lot of public money down the toilet.
In the end, it was Webb Simpson backers that were shrieking in delight. 50/1 odds ain't no joke (that's $5,000 for your $100). And even if you plucked down some cash at 28/1 entering the final round, you'd be stoked through the moon too.
We don't know how many folks put some money down on Simpson to win, but if you did, you deserve a huge pat on the back for that.
Now how about Matteo Manassero to win the 2012 British Open at 66/1?