With just 16-players left from a starting field of 741-players, it's the old school that is making a charge for the top prize of €1 million: Devilfish, Deeb, Gardner and Bansi all hoping to become the inaugural ISPT champion as we enter the fifth day of action.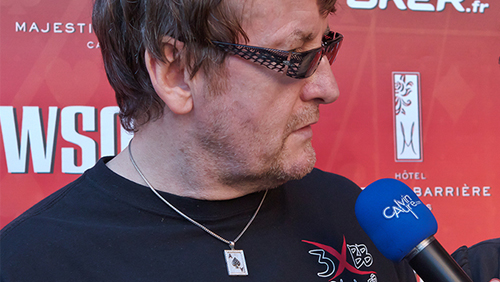 It took 20-hours to construct the Poker Village and roughly the same time to dismantle it. The final few tables moved indoors to the Bobby Moore room, the West End of Wembley stadium opened it's giant jaws and in came the procession of arctic lorries to haul a deflated Beckham, Cruyff, Maradona, Zidane, Pele and Cantona out into the cold night London air.
It's the kids that I feel sorry for. The Wembley business chain just doesn't stop rolling and in they come to have their special VIP tour of Wembley and all they get to see is a scene akin to Bob Builder. No pitch, no goalposts and no experience.
But the players have had their experience, and what a great one it has been. The Bobby Moore room is an exceptional place to play your poker, but from the interior it is no different from playing poker in any casino in the world. So the Wembley experience has dampened a bit, but the poker on the pitch has had to give way to the Capital FM Summer Ball. Like I said the Wembley business chain just keeps on rolling.
Back to the Bobby Moore room and at the time of writing the recent bust of Leon Louis in 17th place means that there are only 16-players left; two tables to go before we crown a millionaire. Actually, that's not true, it's highly unlikely that we will see a millionaire when you consider that there is a €715,000 pay jump between first and second. At least I don't think we have anyone left stubborn enough to believe that they have an edge that wide.
It's the charge of the old school brigade with the likes of Dave 'Devilfish' Ulliot, Freddy Deeb, Praz Bansi and Julian Gardner deep in the mix. They all have the experience of playing for the biggest prize pools in the world, and something tells me that experience will be vital when we get down to the final table.
But the man currently sat in front of the biggest stack in the room is Alban Juen. The Frenchman, who finished a respectable 59th place at last years World Series of Poker (WSOP) Main Event, was an early Day 1 Online Chip Leader and he has seen his momentous wave carry him all the way to the summit of the fifth day of action.
Comments