With the U.S. Open on the horizon Tiger Woods has said it's time to move on as the Sergio Garcia 'fried chicken' debacle reaches a cooling off period.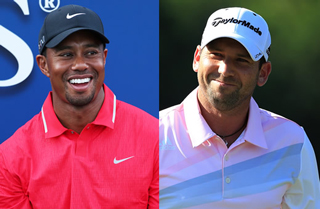 At the recent European Tour awards in the Sofitel Hotel, Heathrow. The Golf Channel commentator, Steve Sands, asked Sergio Garcia if he intended to invite Tiger Woods around for the evening at the U.S. Open in Philadelphia next month.
"He can come around any night and we'll serve fried chicken." Said Garcia instinctively.
It was a sentence that would reverberate around the world of golf thanks to the social media network that now exists as part of our every day life. A social media that Tiger Woods is very much a part of.
"The comment that was made wasn't silly. It was wrong, hurtful and clearly inappropriate," Woods replied in his 140-characters.
Garcia knew he had dropped one as soon as the words had left his lips.
"As soon as I left the dinner I started to get a sick feeling in my body. I wasn't able to sleep at all last night. I've been feeling low all day. Unfortunately, I said it. I wish I hadn't, but the only thing I can do is say sorry. I understand that my answer was totally stupid and out of place." Said Garcia the day after the dinner.
It's not the first time that Woods has been the victim of a 'fried chicken' assault. 15-years ago when asked what Woods may eat for his traditional dinner on the eve of the 1998 Masters tournament, U.S. Golfer Fuzzy Zoeller said: "It could be fried chicken, or collard greens, or whatever the hell they serve." Garcia has since told the media that he was not aware of Zoeller's comments.
The comment may be untimely and inappropriate, downright stupid even, but this doesn't mean that the Spaniard is a racist. What has caused more outrage than the comment is the fact that Garcia will serve no punishment from the European Tour after CEO George O'Grady said that Garcia's apology was enough to settle the matter. When you consider the recent fines dished out in football to John Terry and Luis Suarez you would think sport would have a more uniformed approach to matter of remarks deemed as racist in anyway, shape or form.
The whole incident then took another embarrassing twist when during an interview with Sky Sports; O'Grady told reporters that Garcia has many American friends who are 'colored'. Once again the social media hotline was ringing louder than the one in Batman's cave as people protested to the use of the word 'colored'. This time it was O'Grady making the apology and we doubt he is going to fine himself any time soon.
And yet Woods has faced tougher controversies than this during his reign as the best golfer the planet has ever seen.
"It's already done with. It's time to move on,' insisted Woods this week, "It's happened my entire life. It exists all around the world, not just in the sport of golf."