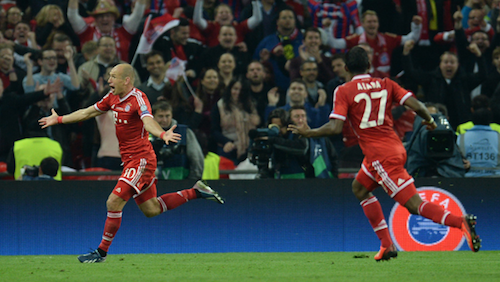 Arjen Robben had that look.
For a man long tormented by failures in the biggest of football stages, it was the sweetest of vindications. Arms spread wide, eyes about to pop out of their sockets. He had just put Bayern Munich ahead in the 89th minute against Dortmund in the Champions League final and he was running with the ease of a man who had just thrown the gorilla on his shoulders to the ground.
No longer will he be considered a choke artist. No longer will he be remembered as a top caliber football player who couldn't win the big one.
For three years, Arjen Robben's football career was a cacophony of heartbreak and near misses. In 2010, Bayern Munich were on the receiving end of a 2-0 loss at the hands of Inter Milan in the Champions League final. Mere months after that, he was part of the Netherlands team that brutally conceded a late goal to Spain's Andres Iniesta in the final minutes of extra time during the 2010 World Cup Finals. And if those weren't enough, his heavily favored Bayern team lost another Champions League final last year in a penalty shoot-out to eventual champions Chelsea after he missed a penalty kick of his own in extra time that could have put Bayern over the top.
It was agony after agony, the kind that no footballer would wish even on their most bitter of rivals. Yet Robben went through all of them, presumably losing all his hair in the process.
But this year seemed different. The stars were aligning in Bayern Munich's favor. They had rampaged through the Bundesliga season, destroying one opponent after another on their way to shattering numerous league records. The team's dominance was so emphatic that it won the Bundesliga title with six games left on the season, finishing the year 25 points clear of runner-up Dortmund, the same team that stood between Bayern and Champions League glory. The team's dominant run of form was no more emphatic in the Champions League semi-finals when it waxed FC Barcelona, considered as the best team in the world, 7-0 on aggregates.
But even with its history-making run, Bayern's season would have been a cataclysmic waste if it didn't win the Champions League tournament. It was pressure at its highest and no one felt it more than Arjen Robben.
In the first half of the match, it was setting up to be another disappointing night for Arjen Robben. Numerous times he had a chance to put Bayern ahead and failed to do so on all of them. He even pelted one straight into the face of Dortmund keeper Roman Weidenfeller. Of all the things that have prevented Robben from finally tasting the championship glory he had long sought, a human head would have been the most ignominious of them all.
His persistence finally paid off in the 60th minute when he helped set up Mario Mandzukic's goal to give Bayern a 1-0 lead. But just like last year's devastating collapse, it didn't take long for Bayern to concede a goal. It wasn't a Didier Drogba header but a penalty off of a reckless foul by Dante, allowing Ilkay Gundogan to equalize in the 68th minute.
Either way, it was 1-1 heading into the final minutes, a scene deathly familiar to Robben and Bayern Munich. But unlike last year, Robben wasn't leaving the pitch as a man scorned by his own follies. In the 88th minute, the Dutchman caught a nifty back pass from teammate Frank Ribery, beat a pair of diving Dortmund defenders before bouncing the ball off his foot straight into the net.
The ball hadn't even gone in yet and there he was, running to the direction of the delirious Bayern faithful with his arms spread wide, a mixture of euphoria and disbelief etched in his face.
It had come to this for Arjen Robben. After years of falling short, he finally came through on the grandest of stages.
Forgive the man for shedding tears seconds after scoring his goal. This was a man who had climbed the highest of mountains on far too many occasions only to see somebody else had beaten him to the mountaintop. This time, he was there first, planting the flag of Bayern Munich for all the world to see.
Arjen Robben finally has that Champions League title.
Finally.