Local boy, Amir Babakhani, leads the final table of six for the PartyPoker sponsored WPT Canadian Spring Championships in Montreal.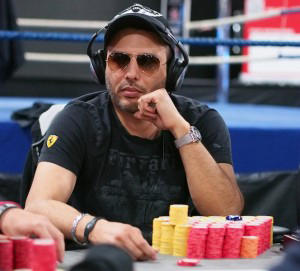 When the fourth day of action began the smart money was on Bryan Piccioli, Christian Harder, Ronnie Bardah or Ravi Raghavan to be the next WPT Champion. Piccioli had the momentum of a World Series of Poker (WSOP) bracelet and the chip lead, Harder makes major final tables for fun, Bardah is a WSOP champ and Raghavan is a WPT Champions Club member. But when the dealers were left to put bags into the safe none of them remained. The media curse had struck once again. We had bokked every single one of them.
It's rare to attract a field of over 700-players, and end up with a final table with no stars, but it has happened at the Playground Poker Club. Of the six remaining contestants, only Jason Duval is a recognizable face. It was just last year that the Canadian Duval made the final table of EPT Madrid, finishing in eighth place, and he is also one of the men pictured in that infamous photograph showing Liv Boeree partying hard in Dublin during the turbulent split with her estranged partner Kevin MacPhee.
The man in charge of the table is the local boy, Amir Babakhani, who despite playing live poker for 20-years only has $16k in live tournament buy-ins to his name.
"I came here today thinking I'm just going to take it easy. I was card dead for quite some time, but when I finally got some hands I just started knocking everyone out." Babakhani told WPT's Jeanine Deeb during the final inquest.
He aint kidding either, Babakhani was the man responsible for the eliminations of Christian Harder (7th), Bryan Piccioli (8th) and Bryan Beggs (10th) to put just enough distance between him and the remaining five players when the final table starts at 15:50 (ET) on Thursday.
Final Table
Seat 1: Barry Kruger – 4,770,000
Seat 2: Tao Liang – 3,870,000
Seat 3: Jonathan Bardier – 1,470,000
Seat 4: Amir Babakhani – 6,635,000
Seat 5: Jason Duval – 4,155,000
Seat 6: Martin Leblanc – 1,140,000
Comments