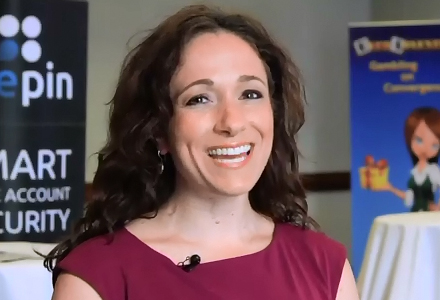 The first day of GiGse 2013 went off at the Westin San Francisco with an absolute bang.  The conference floor and presentation room were both packed from the start to the finish, with even more attendees expected to attend tomorrow for inaugural Social Casino Summit.  And the crisp, clear and warm San Francisco weather certainly didn't hurt either.
Today's keynote speech drew an entire room full of hundreds of people, all keen to hear the opinions of Norbert Teufelberger, David Baazov, Gigi Levi and Robert Melendres on key industry issues.  The topics hashed out during the panel (and throughout the day) were dominated with a social gaming focus, predominantly the million dollar question of exactly how much crossover there is between social gamers and real money gamers.
Robert Melendres of IGT believes there is a quite a bit crossover and claimed there are three reasons why "social gaming will have a lasting relevance on real money gaming".  His three reasons were:
1)Social gaming is a massive distribution channel and allows online gambling companies to access billions of online social gamers.
2)Social gaming will continue to spawn innovation and here's why: barriers to entry are very low, creative people come in with their ideas and developers are taking a chance.
3)Social gaming is legal in markets where online gambling is illegal.  Companies can go into these markets and understand them before online gambling is regulated.
Levy jumped in and added that social gaming is the biggest ever entry funnel into online gambling and that operators must catch gamers at exactly the right time in order to convert them to real money.  This exact right time is when the customers are doing well and if they are approached with a real money offer when they are doing well, chances are that they may make the jump.
On the contrary, Baazov firmly stated that he believes there is a huge gap between the consumer behavior of social gamers and online gamblers.  In reference to the social gaming and real money gaming bridge Baazov said, "[social gaming] has the legs to make that evolution, but its not there today".
Baazov told CalvinAyre.com that he was approached by several members of the audience thanking him for "saying it how it is" during the panel rather than marching to the drum of the rest of the industry.  It will certainly be interesting to see how the social gaming craze in online gambling land develops over the next year, that is for sure.
In a later panel, "State by state regulation challenges", we heard from Nevada, Denmark, Iowa, California and Illinois and one thing is clear to anyone who attended that session- the states within the USA are no where near harmonization.
The idea of interstate compacts is a nice one, but an extremely complex issue to tackle and the states who have regulated or plan to regulate online gambling are not ready to even start talking about the details of compacts yet.
Interesting points raised during the session were:
*AG Burnett's claim that Nevada is quite open to expanding their online bill beyond poker to include other casino games, sports, bingo, etc.
*Richard Schuetz of the California Gaming Control Board was confident in his statement that California's bill will be poker only and that he does not expect to see slots go online in his lifetime.  He also claimed that California balance sheets are in "good order" and that they can afford to take their time with the passage of any online gambling bills.
*Birgitte Sand of the Danish Gambling Authority shared some of her expertise after working in fragmented Europe and her words of advice were to focus on similiarties rather than the differences; focus on the technologies and the licensing process- this can be harmonized.
One of the more entertaining and polarizing panels included a firey debate between Jan Jones of Caesars Entertainment and John Pappas of the PPA.  Jones strongly believes that the regulatory bodies within the United States absolutely must maintain their integrity and this should remain at their core.  As a result, she believes companies such as PokerStars should not receive a license to operate in the United States as they chose to continue operating in the United States after UIGEA was passed.
On the other hand, Pappas believes that UIGEA was not specific in what defines "illegal online gambling" and therefore PokerStars was not breaking any laws by operating within the United States post UIEGA.  Jones responded with the point that big companies operating in the States such as 888 and Party Poker left after the passage of the law and land based companies within the USA did not launch online poker sites, so why does Poker Stars believe it was ok to do things differently?
This is one of those debates that will continue to go around in circles, but one thing that both parties do agree on is that Federal regulation would be a much simpler solution for the industry than state by state regulation.