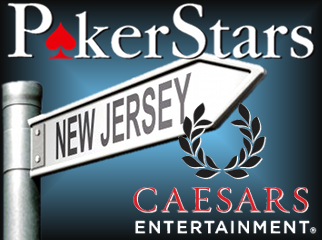 The New Jersey Division of Gaming Enforcement (DGE) has announced that the application by PokerStars' parent company Rational Group for interim casino authorization in New Jersey was deemed complete on April 10. The news comes four months after Rational filed paperwork with the DGE confirming its intentions to acquire the financially struggling Atlantic Club casino-hotel in Atlantic City. The announcement officially opens the 90-day window in which the DGE will investigate Rational's suitability to hold a New Jersey casino license. Once the DGE weighs in with its verdict, the state Casino Control Commission (CCC) will have a further 30 days in which to make its own decision. That would put an early August timeline on learning Rational's fate.
That is, unless part-time casino operator/full-time debt-servicing outfit Caesars Entertainment whispers 'fly, my pretty' to the American Gaming Association. The AGA has mounted unprecedented opposition to Rational's New Jersey casino aspirations, an antagonism widely presumed to stem from Caesars' fears of having to compete with PokerStars in New Jersey's nascent online poker market. The CCC was set to consider the AGA's petition at its March meeting, but the item was taken off the agenda to give the CCC more time to consider the petition's merits (or lack thereof). Given the strident tone of the AGA's petition, it wouldn't come as a surprise to see the AGA launch alternate legal methods of blocking or delaying Rational's bid, should the CCC give its approval in August.
In the day's least surprising news, Caesars has announced that its digital division Caesars Interactive Entertainment (CIE) will file for a New Jersey online gambling license. CIE spokesperson Seth Palansky told the Press of Atlantic City the application was "the first of I'm sure many hurdles to cross." Palansky said Caesars' New Jersey online offering would mimic the full suite of gaming products it offers via its UK-facing site. "We anticipate having everything available." That is, assuming Rational doesn't file a petition protesting CIE's application on the grounds that only companies who can demonstrate they won't be filing for Chapter 11 bankruptcy protection within the next 12 months should be eligible for an online license.
Comments