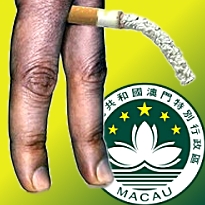 Macau seems to have no problem generating revenues recently and that in itself has strengthened the Chinese gambling town's stature as the world's premier gambling destination. But not everything is hunky dory when it comes to casinos in Macau, particularly if you ask the territory's Health Bureau.
According to the bureau, two out of every three casinos and slot machine parlors in Macau are not complying with the partial smoking ban inside casinos that was enacted on the 1st of January. The bureau's evaluation discovered that the air quality requirements inside the smoking areas of these establishments fell below satisfactory levels.
The Health Bureau made the first evaluation last month, collecting air samples in the smoking areas, mass gaming floors and ventilations systems. All told, the bureau evaluated 44 casinos and slot machines parlors with 28 of these venues being found guilty of not complying with at least one of the six reference air quality requirements set forth by the partial smoking ban.
Of the 28 total venues, 16 were operating under the gaming license of SJM Holdings Ltd. On the flip side, the properties belonging to MGM China Holdings Ltd. and Sands China Ltd were not included in the list of infracting casinos.
The glaring percentage – 64 percent – of casino establishments that aren't improving the health standards set forth by the new legislation has drawn the ire of government officials, particularly Secretary for Economy and Finance Francis Tam Pak Yuen, who recently went on record to lob a warning shot on offending casinos. If you don't get your act together to take the necessary measures in meeting the  required air quality standards inside your smoking areas, you best be ready to face some pretty stiff penalties.
Tam did concede that it's still early in the evaluation process and any form of concrete effectiveness at this point is still tough to draw conclusions on. As such, the government won't be putting the smack down – at least not yet. For now, the approach is to partake in a collaborative "step-by-step" approach with operators to ensure that improvements are made as far as implementation of the requirements are concerned.
Comments