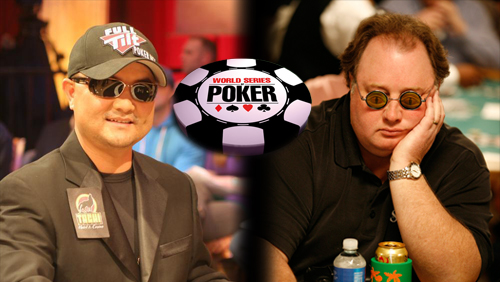 World Series of Poker (WSOP) Main Event champions, Jerry Yang and Greg Raymer, respond to the recent tax and prostitution headlines that have shocked the poker world.
In the past few weeks, both Jerry Yang and Greg Raymer, have been in the national news for all of the wrong reasons. Yang's 2007 WSOP Main Event winning bracelet was put up for auction after falling foul of the IRS, and Raymer was arrested on charges of prostitution in his home county of Wake Forest, North Carolina.
These sorts of hyper-sensationalized stories usually end up with the protagonist doing a Lord Lucan. But both Raymer and Yang aren't about to disappear out of the public eye just yet.
Greg Raymer has recently appeared on Flopturnriver.com where he entertained the poker public in a question and answer session entitled, 'Ask Me Anything.' The event didn't attract much attention – creating just a three-page thread – that goes somewhere to show how much the poker public does actually care about poker players and their prostitution habits. It took a total of 41 questions and comments until somebody stood up and asked the question that everyone had tuned in for, except it wasn't very eloquently put.
"Just curious, how suspicious you were that it was a sting when you were going through the motion of it all?"
Mm…
In fact, Raymer didn't answer a single question in connection with his arrest. Maybe the session should have been renamed, "Ask Me Anything Except For The Prostitution Thing."
"I know that many of you are curious about my arrest a couple of weeks ago, and want to know more. I appreciate your questions and your interest, but I am still at a point in the process where my lawyers have advised me to not answer most questions on that subject. What I would like to say is that I am very sorry for the pain and suffering I've caused my wife, daughter, and family, as well as for any disappointment or difficulties I've caused to my friends and fans." Raymer stated.
With the adult rating removed, the most interesting parts of the interview centered on Raymer's involvement with the Poker Players Alliance (PPA).
It seems that Raymer believes the success of online poker in the U.S depends largely on the success of the States ability to work cohesively with their online offerings, rather than waiting for federal law. When questioned on how long he felt it would take to get back to the good old days he answered:
"The real question is how long will it take for the states to successfully come together and offer games on sites that operate within multiple jurisdictions.
"I'm not sure if state level legalization is going to work out easily, or be really tough, but it's certainly better than waiting on a Federal bill that might not ever happen."
When questioned he also gave his opinion on the poker sites that are still operating within the U.S:
"I do honestly believe that offering online poker inside the U.S. is NOT illegal under any current U.S. Federal law (but does violate some state laws, the clearest example being Washington state)."
During the WPT Venice Grand Prix, Mike Sexton, said that the eventual legalization of online poker, in multiple States, will result in another poker boom. Raymer predicts the same thing.
"If we get specific legalization of online poker in the U.S., it will start a second poker boom. Maybe not as big a boom as the first time, but huge nonetheless. And even if the current big sites aren't able to enter the U.S., new big sites will emerge quickly."
Raymer was also asked about his opinion on current gun laws and gay marriage, but given that he is a Libertarian you can guess his answers on both.
In 2007, Jerry Yang was on top of the world when he won $8,250,000 after topping a field of 6,358 players at the WSOP Main Event. After winning the most famous bracelet in poker Yang immediately declared to the ESPN cameras that he would donate 10% of his winnings to charity. It seems that this decision has been one of the instrumental reasons behind his current disagreement with the IRS.
Yang told Mark Hoke on Fifth Street Radio that one of the reasons he has a federal tax lien for $571,894.54 against his name, is he failed to pay his taxes before he donated 10% of his winnings to the Make a Wish Foundation, Ronald McDonald House and Feed the Children charities.
Yang also told Hoke that he started a restaurant and encountered advisers he thought he could trust, who ended up advising him in the wrong way. He then went on to say that his money was frozen in the Bank of America during the economic crisis of April 2008, meaning he couldn't access his funds to pay his federal taxes at that time. He said that due to penalties since then he owes between $150-170,000 to the IRS.
Yang was very humble as he admitted his mistakes, blamed nobody but himself and said that he had treated his money likes leaves falling from a tree. He finished by saying:
"Jerry Yang will not go anywhere. If I survived a refugee camp and a communist invasion of my country, I know I will survive this."
Comments