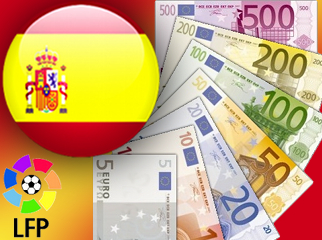 Spain's online gambling operators saw their gross gaming revenue hit €61.4m in Q4 2012, a 41% leap from Q3's tally, thanks in large part to a full quarter of La Liga footie action. Spanish gaming regulator La Dirección General de Ordenación del Juego (DGOJ) reported a 24% quarter-on-quarter increase in online wagering handle to €1.36b as the number of registered customers topped the 1m mark. However, while over 100k players per month were signing on to Spain's online market in the period immediately following liberalization in June 2012, the most recent quarter showed this influx slowing to an average of 72,453 per month.
Sports betting continues to account for nearly half (48.4%) of all online wagering, with GGR rising 66% over Q3 to €30m. Betting handle topped €483m and hold rate was a favorable 6.2%. Sports betting hit its peak in November, bringing in €12.5m, compared to €8.8m in October and €8.7m in December.
Online poker revenue rose 17% to €17.4m, with cash games representing 15.6% of total GGR and tournament poker coming in at 8.8%. With the possibility of adding online slots still languishing in consultation mode, the casino channel accounted for just 12.4% of total online action, but online casino games grew 43.7% to €7.5m, thanks to a 60% boost in online roulette play. Online bingo claimed a 3.6% slice of the GGR pie.
With revenues on the rise, it should come as no surprise that Spanish tax authorities are taking a closer look at online gambling. Among the chief aims of the recently published 2013 Tax Audit Plan were verification and control proceedings of online operators' compliance with the Gambling Tax, as well as punter-focused investigations of personal income tax and value added tax compliance.
While everybody loves to complain about the taxman, the head of Gibraltar-licensed operator Victor Chandler recently had a go at the Spanish government's overall approach to its economy. Victor Chandler Jr., who began working in Spain after finishing college in the 1970s, told the Huffington Post that Spanish labor laws made their British counterparts look "simple," in that "it's almost impossible to fire anyone, which means businesses are too scared to hire." Chandler noted that there was "huge unemployment" including half of all under-25s in Cadiz and that "the police haven't been paid in more than six months." If there's a message here, we believe it's 'go ahead and cheat on your online gambling taxes, Spanish punters, because there's nobody left to arrest you.'
Comments