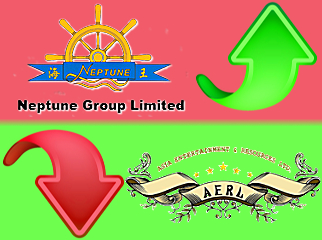 Hong Kong-listed junket investor Neptune Group Ltd. may be getting a rough ride in the media of late, but it's smooth sailing on the financial seas. Neptune posted a net profit of HK $306.6m (US $39.5m) over the six months ending December 31, 2012, a 33.5% improvement over the same period a year earlier. Turnover rose 29.2% to HK$284.8b. As of Dec. 31, Neptune held interests in 51 VIP gaming tables in Macau, but in August entered into memorandums of understanding to take a piece of three junket operators controlling an additional 64 VIP tables.
At the other end of the equation, troubled Macau junket operator Asia Entertainment & Resources Ltd. (AERL) saw rolling chip turnover take another double-digit tumble last month. Despite Macau's overall gaming revenue rising 11.5% in February, AERL's turnover fell 32% to MOP 10.3b (US $1.29b). For the first two months of 2013, AERL's rolling chip turnover is off 29% from the same period last year. On the plus side, AERL's win rate in February was 3.54%, above the normalized win rate of between 2.85% and 3%. AERL has been posting double-digit declines in turnover ever since it tightened its credit limits last summer on concerns that the Chinese economy was slowing down.
Those concerns may be justified, given the latest figures from China's National Bureau of Statistics. The official Purchasing Managers' index – considered a bellwether of China's economic fortunes – hit a five-month low in February based on reduced domestic and foreign demand for China-manufactured goods. However, before anyone puts their head in the oven, some China watchers are attributing the decline to 'distortions' generated by the lunar new year holiday. Veteran observers like IGamiX Management & Consulting's Ben Lee claim there's a two-month lag between a fall in the purchasing index and a corresponding fall in Macau VIP gambling volumes. This is the second consecutive month of decline, so if past is indeed prologue, VIP gaming could take a tumble in March.