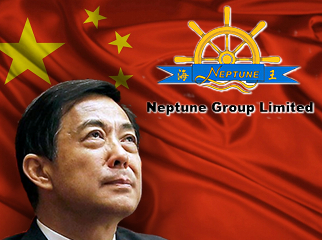 Hong Kong-listed mega-junket investor Neptune Group Ltd. has finalized its acquisition of a 20% share of junket operator Hoi Long Sociedade Unipessoal Lda. The deal, which was first announced in September, will see Neptune pay Hoi Long HK $150m (US $19.3m) for one-fifth of Hoi Long's profits. Hoi Long operates "not less" than 11 VIP gaming tables at SJM Holding's Grand Lisboa casino in Macau.
In less favorable news, Neptune's name has surfaced in connection with Bo Xilai, the former Communist Party rising star who spectacularly fell from grace last year after his wife was convicted of murdering British businessman Neil Heywood. Bo, who remains in custody awaiting his own trial, has been identified as having financial links to Lian Zhuozhao aka Lin Cheuk Chiu, the brother of Neptune chairman Lin Cheuk Fung. In its latest cover story, Chinese magazine Caijing claimed Lian was the real power behind Neptune and that Lian had helped numerous high-profile individuals launder money through underground banks.
Caijing claimed that Lian – dubbed "the king of gambling on the high seas" for his former role in running Neptune's casino-cruise line operations – had alleged ties to a number of prominent figures currently residing in Chinese jails, including Huang Guangyu, the billionaire chairman of Gome Group, China's largest consumer electronics retailer, for whom Lian allegedly laundered RMB 800m (US $128.4m). Guangyu was arrested in 2008, while his wife Du Juan was deliberately not arrested so the authorities could monitor her reaction. Du immediately reached out to Lian to help spirit her out of the country, but several high-ranking officials, including Zhenjiang discipline inspection commission secretary Wang Yuanhua and former assistant minister of public security Zheng Shaodong, warned Lian that the authorities were listening in, prompting Lian to make good his own escape.
Lian was subsequently arrested in Xiamen and admitted bribing Zheng "in exchange for protection." Lian was released after agreeing to testify against the officials he'd bribed. (As Caijing put it, China has a history of treating bribe-payers leniently while seriously punishing bribe-takers.) Caijing now reports that Bo Xilai, his wife Gu Kailai and assorted family members are being investigated over alleged ties to VIP gaming rooms linked with Lian.
Bo Xilai's name was bandied about in December following the detention of several junket operators in Macau and on the mainland. The Times reported that the investigation centered on a corruption case involving "a former senior Chinese official." The Times later reported that a more serious crackdown on mainland junket operators was set to begin shortly after the Lunar New Year celebrations had concluded. Given that the Caijing story has been widely republished amid a variety of Chinese media, including acknowledged pro-Beijing newspapers, it seems Beijing is indeed trying to send a message ahead of incoming Party boss Xi Jinping's official first day in office next month, but that message may be directed at corrupt officials more than junket operators.
The video below is courtesy of NTDTV, which was founded by members of the Falun Gong movement, which has no great love for China's present leadership, so take some of the more hyperbolic "flesh and blood" quotes with a grain of salt.