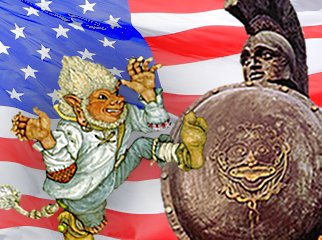 Two US politicians are valiantly attempting to rein in patent trolls by injecting an element of risk into their ransom schemes. On Wednesday, the bipartisan team of Rep. Peter DeFazio (D-OR) and Rep. Jason Chaffetz (R-UT) introduced the SHIELD (Saving High-tech Innovators from Egregious Legal Disputes) Act, which seeks to make it riskier for patent trolls to file dubious patent litigation by making the loser of the suit responsible for both parties' legal costs.
The legislation would also require plaintiffs to demonstrate from the outset that they are either a university, the original inventor of the patent in question, or an actual company working to turn the patent into a commercial product. Failure to meet one of these three criteria would require the plaintiff to post a bond sufficient to cover the defendant's court costs, in case they lose at trial.
The SHIELD Act is aimed at the very heart of the strategy patent trolls use to target technology companies. Trolls are usually just shell companies that buy up reams of vaguely defined software patents, then go looking for actual businesses to blackmail. Trolls also rely on the fact that their attorneys will work on contingency, hoping for a cut of the lucrative payday if/when the targeted company loses the suit or cuts a deal.
But the company defending itself from a troll attack has to pay its lawyers up front, meaning the longer the suit drags on, the more expensive fighting the good fight becomes. Fortune 500 companies with small armies of lawyers on the payroll might consider it the cost of doing business, but for smaller firms just starting out, mounting legal costs can mean life or death. Small wonder that a 2010 University of Texas at Austin and Stanford study estimated 90% of patent suits end in some kind of deal. On the flip side, that same study found that a mere 9% of patent suits that went to trial ended in victories for the plaintiffs.
The online gambling industry has not been immune from patent troll attacks from the pond scummy likes of Lottotron, which has brought litigation against PokerStars, PartyGaming and Playtech (and that's just the P's). Then there's 1st Technology's Scott Lewis, who has attempted to shake down companies such as Sportingbet, Leisure & Gaming, Costa Rica International Sports, Bodog and Cake Poker. A true troll, Lewis has never used his patents for any other purpose but to target real entrepreneurs.
This is the SHIELD Act's second go-round; a less comprehensive version was introduced last year but failed to come up for a vote before Congress broke for the November election. Politico reported that the House subcommittee on Courts, Intellectual Property and the Internet will hold a hearing on Thursday, March 7 to discuss frivolous patent litigation, and Chaffetz sits on the panel, so expect SHIELD to be front and center. Meanwhile, the Electronic Frontier Foundation has set up a web page to allow US residents to send a message to their local representatives in Washington urging them to get behind this SHIELD.
Comments