When you're a business that's mired in the doldrums with no rays of hope in the foreseeable future, there comes a point in time where you just need to shake things up. Revel Entertainment Group LLC has reached that point and while they did stop short on calling Santa Claus and the Easter Bunny for help, they did take the step to hire law firm Kirkland & Ellis LLP and investment bank Moelis & Co. to help it address their $1.2 billion debt and what steps need to be taken to alleviate that gorilla-sized problem off their shoulders.
The law firm Kirkland and Moelism, in particular, specializes in doling out advice to companies on how they can deal with bankruptcy filings restructure certain obligations, including raising the company's additional capital or getting creditors to agree to redo debts outside of court. Lord knows Revel needs all the help it can get and if these lawyers and bankers have ideas on how to get Revel some breathing room for the time being, then by all means, the casino should entertain whatever scenario is presented to them.
One option the casino is reportedly considering is negotiating a so-called prepackaged bankruptcy that would put its creditors on board with a restructuring plan that could keep the company out of the courts. Other options are being looked into, which in itself is a relative victory in its own right.
Michael Garrity, Revel's chief investment officer, told the WSJ that the resort casino has worked tirelessly to increase its financial flexibility, pointing to the additional capital they raised late last year. "We will continue to prudently evaluate various alternatives with regard to our capital structure, and remain focused on providing a signature Revel experience for all of our guests."
Easier said than done, though, and made more difficult by the fact that the casino only generated $8 million in revenue in January, its second lowest total since the resort and casino opened in April last year. Only November's $6.2 million in revenue was lower and that figure was marred by the destruction left by Hurricane Sandy in Atlantic City. Even more alarming is the 19% decline in revenue the resort and casino experienced from their December 2012 numbers to their January 2013 numbers.
It's still an uphill climb at this point with no indication of any reprieve in the foreseeable future. Moody's Investors Service even added some salt to Revel's wounds by cutting the casino's credit rating and calling its finances "unsustainable" earlier this month. But you know what they say, when you've hit rock bottom, the only place to go is up. If Revel's decision to hire Kirkland & Ellis LLP and investment bank Moelis & Co. will have beneficial after effects, then you can at least say that the resort and casino finally did something right. For their sake, we're all rooting for them to get back up on their feet. Whenever that is.
Church groups fret sociological perils of Samoa's first two casinos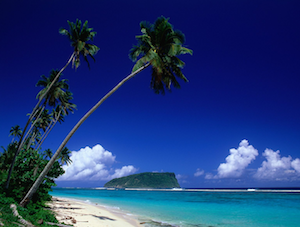 Over on the other side world, plans for Samoa's first ever casino are drawing concerns from the country's National Council of Churches, who expressed their worry that having casinos in the island could have negative financial repercussions on its less fortunate citizens. Reverend Maauga Motu, general secretary of the NCC, recently disclosed his concern to Radio Australia's Pacific Beat and said that having casinos in the island has the potential to change lives, particularly the less fortunate Samoans who are likely to be tempted by the allure of riches in these casinos. But according to Reverend Motu, the opposite is the most likely scenario to happen. "That's always the end result of playing games like this at the casino, they will always lose," he told Pacific Beat.
"Our concern is that the social life of the people will be spoilt."
Robbie Kearney, the chief executive of Samoa's Gambling Control Authority, stopped short of refuting the reverend's words, saying that the new casinos being developed by Aggie Grey's and Chinese company ETG will have far more positive repercussions to the Samoan economy in the form of creating jobs for local people and attract tourism dollars to the island.
Kearney also emphasized that the casinos will also be subject to local laws to ensure that the establishments take the proper measures of not admitting patrons without a foreign passport or evidence that they are staying at a recognized hotel or resort. Failure to adhere to these laws, Kearney stressed, will be subject to "severe action [taken] against them".