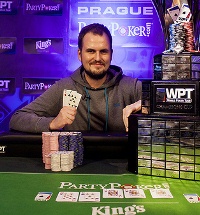 The PartyPoker World Poker Tour Prague drew a sizable number of players, all vying to be able to take home the title of WPT Prague winner. In the end, though, it was Marcin Wydrowski who dropped the hammer on the rest of the field, becoming a WPT champion and more importantly, the first Polish to win a WPT title.
Oh, and he won €325,000 ($423,957), which isn't too bad either.
After 5 days of play and a total of 567 players, it was Wydrowski who ended up upending them all, the last being Alexandr Lahkov, who bravely put up a fight but was just deeply outgunned heading into their heads-up title. With Wydrowski holding a three-to-one chip lead against Lahkov, the end came soon when both players pushed all their chips on the table with the Polish Wydrowski's 7d7c hand dominating Lahkov's 7s6s. The flop came – Jd8d5c – and gave the Russian a little bit of hope but just as soon as that hope it was given, it was taken away when the turn and river turned two kings – Ks and Kd – giving Wydrowski the win, the title, and the first price money.
Action in the final table began with the two short stacks likewise ended up being the first two casualties as Alin Grasu and Michael Gagliano hit the rail, thanks to the unpredictable Tony Chang and then chip leader Bodo Sbrzesny. With the table down to just four players, business began to pick up, it was Chang who ended up busting out in fourth place thanks to an ill-timed bluff that saw his Kc2c fall to Lahkov's 5h3h after the board turned 6s5s3s – 9d – 8d.
Third place ended up going to Bodo Sbrzesny, who incidentally began the day as the chip leader only to see his hard-earned stack fall throughout the final table. When the opportunity presented itself with a decent hand, there was no doubt that Sbrzesny was going to push. That opportunity eventually came, and with a 6d6h hand, Sbrzesny pushed his remaining chips into the middle of the table. Unfortunately for the PartyPoker Pro, Wydrowski immediately called with AdJd. The flop – 9c3d3c – turned out great for Sbrezny only to be followed by a 7d on the turn, giving Wydrowski a nut flush draw. The river didn't net a diamond, but it was an Ac, propelling the Polish pro to a backdoor cover that left Sbrzesny in total shock.
With only Lahkov left in the picture, Wydrowski was determined to end things quickly. And end it quickly he did, dismissing Lahkov shortly thereafter and staking claim as the first Polish player to win a World Poker Tour Main Event.
Well deserved win, Marcin Wydrowski.