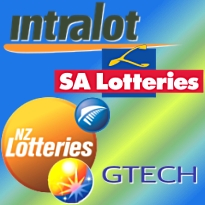 Third quarter revenues at Greek gaming and lottery supplier Intralot rose 16% to €313.6m, but a rash of unfavorable sports betting results, rising interest costs and foreign exchange losses pushed earnings down 9.9% to €35.6m. Net profits went off a cliff, falling from €6.8m in Q3 2011 to just €209k this year. For the first nine months of 2012, Intralot reported revenues up 16.9% to €1b and earnings up 4.3% to €117m. The company's net debt also rose to €402.5m. Looking forward, Intralot expects profits to get a boost from three projects currently nearing the point where they'll contribute to the bottom line: two video lottery terminal monitoring projects in Ohio and the Australian state of Victoria, plus the German sportsbetting joint venture with Scientific Games.
One project that won't be helping Intralot's bottom line is the South Australian Lotteries contract, which was awarded to rival Tatts Group earlier this week. But Intralot director (and former Victorian Labor treasurer) Tony Sheehan isn't convinced the selection process was a fair one. The Australian quoted Sheehan as saying Intralot had "expressed strong interest" in procuring the contract at the one meeting it had with Investec, the banking/management group hired by the government to oversee the sale. But after that meeting, Sheehan says "no one ever got in touch with us again." Investec was also the company that oversaw the sale of Tote Tasmania to Tatts last December.
Sheehan has sent SA Treasurer Jack Snelling a letter expressing his concerns that Tatts may have won the 40-year contract without having to face a formal tender process. Sheehan sent a similar letter in September seeking assurances that Intralot would get a chance to bid on the contract. Snelling has responded with a public and quite pointed barb that Intralot's "disastrous dealings with lottery agents" in Victoria meant "they were never going to be considered" for the SA Lotteries contract. The Australian Newsagents Federation has also protested the awarding of the contract over concerns that "Tatts Lotteries will now have interests in seven Australian jurisdictions."
Over in New Zealand, Lottomatica subsidiary Gtech Global Services Corporation has extended its relationship with the New Zealand Lotteries Commission. Gtech has been a NZ Lotteries supplier since 1987, and the new deal extends that relationship to June 30, 2020 with two two-year extension options. As part of the new deal, Gtech will install 1,800 new Altura GT1200 terminals, expanding the possibilities for new games and services.
Comments