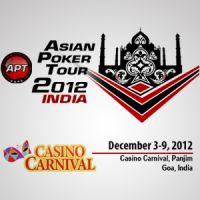 The Asian Poker Tour has enjoyed a banner year in 2012, hosting the most number of tournaments in one year than any other time in its history.
Now that the year is winding down, the APT will conclude their successful 2012 campaign by returning to Goa, India for the first ever Asian Poker Tour India. The event is historically significant for the Asian Poker Tour in large part because it will be the first time the series will host a major tournament outside of Macau and the Philippines.
The event will take place from December 2 to December 9, 2012 on board the Casino Carnival that's anchor on the Mandovi River in Panjim, Goa, India. No hotels this time folks, just a luxury cruise ship.
The unquestioned highlight of the series will be the Main Event, which will come with a buy in of INR 150,000 ( $2,700), to go with seven satellite events and seven side events.
As always, one of the most eagerly anticipated side events in the schedule is the PokerAce High Rollers, which will come with a buy-in that's double the main event: INR 300,000 ($5,400). In addition to the High Rollers, APT India 2012 will also feature a INR 20,000 ($360) Head Hunter tournament, a INR 25,000 ($450) FundooPoker Freezeout event, numerous other Freezeout events valued anywhere between INR 15,000 – INR 20,000 ($270 – $360), and a INR 20,000 ($360) 6-Handed Event.
While the Asian Poker Tour hasn't divulged their expected turnout for the event, it certainly goes without saying that they're expecting a healthy attendance seeing as it's their last tournament of the year. Considering how their year has gone and the tremendous success they've enjoyed in the past 11-and-something months, we're confident that the APT will continue on the remarkable success they've had this year and use APT India 2012 as the proverbial cherry on top of the sundae.