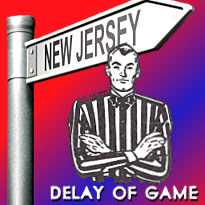 The major North American professional and college sports leagues are seeking a one-month delay for the commencement of their case against New Jersey's bid to offer single-game sports betting. NorthJersey.com's John Brennan reports that the leagues sent a letter to US District Judge Michael Shipp requesting that the Dec. 18 commencement of oral arguments be pushed back to "the week of January 14, 2013." New Jersey has stated it intends to begin issuing sports betting licenses by Jan. 9, but should the judge approve the leagues' request for an extension on the sports betting moratorium currently binding the state's hands, this date would be pushed back until Feb. 9 – thereby ensuring there would be no licensed sports betting operators available to take bets on the Super Bowl on Feb. 3. Coinkydink?
The litigants are also unable to come to an agreement regarding the page-length of their respective briefs and reply briefs, opening up the possibility that the frustrated judge will make both parties write their papers out on the blackboard 100 times after school. Some insight into the state's defense plan may have also come to light via the ongoing depositions of league execs. League attorneys have complained to the judge that state attorneys are presenting the execs with documents that league attorneys claim weren't made available to them ahead of time. The state attorneys have countered by pointing out that the documents in question come from the leagues' own websites. These include "printouts from NFL.com concerning the NFL's promotion of fantasy football that resembles sports gambling."
In Nevada, the only US state in which single-game sports betting is currently legal, Cantor Gaming is busy expanding its business (a far more pleasant subject to discuss with the media than the illegal gambling and money laundering charges facing their former vice president, Michael Colbert). Cantor recently signed on to operate the sportsbook at Golden Gaming's Pahrump Nugget Hotel and Casino, marking Cantor's eighth such deal in Nevada and its first outside Clark County. (Cantor also has a deal with a California racing body.)
Cantor has also convinced more drinking establishments in Las Vegas to install their "sports wagering sign-up stations," at which punters can open, deposit to and withdraw from Cantor sports betting accounts, which also entitles them to utilize Cantor's mobile sports betting product anywhere within state borders. Over the past couple months, Cantor has inked similar deals with RoadRunner Saloons and the Outpost Saloon, and has now added the Boulevard Bar and Grille and two Giuseppe's Bar and Grille locations to its booze-and-bet roster.
Comments