For those Americans who don't play online poker, the phrase 'Black Friday' refers not to a government crackdown on gambling but to the day after Thanksgiving that unofficially kicks off the holiday shopping season. Retailers traditionally offer all sorts of deals to compete for increasingly scarce consumer dollars on what is considered the year's busiest shopping day. There's even a Cyber Monday that follows this Black Friday, in which online retailers try to capitalize on the shopping frenzy.
Many of you were likely unaware that a similar online promotion took place on Nov. 9. Bitcoin Friday involved 70-odd online retailers that accept the digital currency offering special deals and discounts to customers for making purchases with Bitcoins. The promotion was the brainchild of Jon Holmquist, co-founder of Bitcoin exchange Coinabul, who claimed to have been alarmed by reports that 78% of Bitcoin users weren't doing anything with their Bitcoin bankrolls but sitting on them. Holmquist told The Register that the response to the inaugural Bitcoin Friday had been "fantastic" and he expects the momentum to grow as word spreads. "In the next couple year, digital will be the new plastic, and Bitcoin Friday will be the new poster child of consumerism."
Well, maybe. For the moment, Bitcoin remains a niche product, although last month the European Central Bank released a Virtual Currency Schemes report (read it here) that was largely focused on Bitcoin's growing popularity. Among the report's conclusions was that virtual currencies don't represent a threat to 'real world' financial systems, at least, given current levels of adoption, but Bitcoin is definitely on central bankers' radar. The report also spotlighted one of the main bugaboos surrounding Bitcoin, namely, its association with sites like SilkRoad, the 'black market eBay' accused of facilitating illegal drug trafficking and other frowned upon transactions. On the plus side, the ECB generously noted that criminals also routinely use traditional fiat currencies to conduct drug sales and launder money, so the ECB doesn't advise throwing out the Bitcoin baby with the bathwater just yet.
BITCOIN GAMBLING PROS AND CONS (BUT MOSTLY PROS)
Among the merchants participating in Bitcoin Friday were online gambling sites like StrikeSapphire, Satoshi Dice and BC-Casino. Bitcoin seems an ideal payment solution for online gambling sites, yet adoption has been confined to the sector's smaller operators. None of the major gambling sites we spoke to would even cop to having had internal discussions regarding offering a Bitcoin option to their players. So we asked Conor McCarthy of SwitchPoker – which began offering Bitcoin as a payment option a year ago – why adoption was progressing at such a snail's pace.
McCarthy told CalvinAyre.com that SwitchPoker's use of Bitcoin was not without its challenges, such as the fact that "all payments are final." Bitcoin's ability to forego the use of banks and online e-wallets by sending payments directly to the consumer eliminates the ability to reverse a transaction. "This means that fraud issues need to be handled differently. Extra checks are performed before sending Bitcoin payments out." Security is another area of concern, in that "with Bitcoin you have the option to store the funds yourself" rather than with a third-party financial institution "and this comes with risks. Precautions must be taken to ensure your Bitcoin wallet is kept safe, as a security breach could spell disaster." McCarthy says SwitchPoker's use of the Bitcoin 24/7 exchange's secure wallet service "insulates us from all the intricacies of the Bitcoin network and provides a simple interface just like any other payment system."
McCarthy is quick to note that Bitcoin's potential pitfalls are vastly outweighed by its strengths. "Unlike almost every payment method, if we receive a Bitcoin payment we are certain that the funds are deposited legitimately. Overall, Bitcoin has reduced our fraud-related costs significantly." Given the recent spate of online poker site shutdowns in which player funds vanished into the Twilight Zone, McCarthy says Bitcoin provides players with added insurance against chicanery. "With traditional payment methods who invariably charge significant fees to perform payments, it is not viable to allow players to move their bankroll on and off the site on a daily basis. Bitcoin changes all this. Players can have full control of their bankroll and can move their funds about at will."
Despite Bitcoin's advantages, McCarthy says it "remains less popular" than credit cards or traditional e-wallets, especially with SwitchPoker's "social type players." However, McCarthy says once users give Bitcoin a try, "they tend to stick with it, whereas customers who do not use Bitcoin would often switch from one payment method to another." McCarthy expects Bitcoin will eventually be adopted by the major gambling sites "due to the reduced cost and the increased security" offered by the crytpo-currency. But McCarthy warns that as Bitcoin's popularity increases, traditional bankers will likely pressure governments to "legislate against it."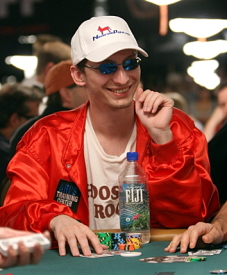 PREACHING TO THE BITCOIN CHOIR
McCarthy's observations about casual poker players being slow to adopt Bitcoin as their currency of choice were echoed by poker player Bryan Micon (pictured right), who reps Bitcoin-only online poker site SealsWithClubs.eu. Micon told CalvinAyre.com that it was currently easier to convince Bitcoin devotees to play online poker than it was to convince poker players to use Bitcoin. "We are still only to the early adopter stage of this technology. The table chat at SealsWithClubs reads like a Bitcoiners hangout." As a result, Micon admits that "games on Seals right now are soft." Micon estimates the largest number of tables in action at any one time on Seals "was maybe nine games, most of them two- and three-handed, a few six-handed and two or three full games."
To boost business beyond the Bitcoin crowd, Seals recently announced the launch of the site's first affiliate program, the response to which Micon says has been "very encouraging" and "has us poised for growth in the coming months." Dismissing suggestions that this is a glorified refer-a-friend program, Micon says "high-traffic websites, poker- or Bitcoin-facing, and newsletter/email direct marketers are welcome, so long as they play fair." Micon doesn't want Seals' name sullied by having it "marketed in a way detrimental to the brand, such as spam."
As for Bitcoin's future with US-facing gambling sites, Micon says Seals is helping lead the way for "a totally different model that I think will exist alongside regulated USA gaming sites." Seals "does no banking whatsoever" with US institutions, "only Bitcoin in and Bitcoin out, all for a max rake of 0.1 Bitcoins [currently about $1]. And we give a significant percentage of that rake back in promotions for our top players." And unlike traditional sites, Seals' users remain completely anonymous, except for the fact that, at present, they all seem to know each other.