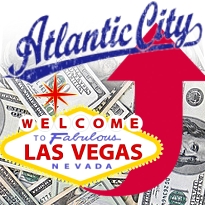 Nevada's gambling revenue soared in the month of July, rising 17% to $1.005b, making it the first time the state has recorded two $1b+ revenue months in the same year (the other $1b+ month was in January) since the pre-recession days of 2008. According to figures released Monday by the state's Gaming Control Board, Nevada's boat was floated on the rising tide of (what else) higher baccarat yield. Baccarat wagers at Nevada casinos rose to $1.2b in July, a 28.9% bump from the same month last year, making it the third highest monthly baccarat revenue total in Nevada history and the single best July baccarat haul ever. More importantly, Nevada casinos recorded a 16.03% baccarat hold, a significant improvement over the 9.76% hold in July 2011 and well above the 2012 average hold of 12%.
How important is baccarat to Nevada's fortunes? Consider that July's non-baccarat table games handle was essentially flat at $2.84b. But here too, the casinos hit a hot streak, bumping their hold percentage from 10.8% in July 2011 to 14.2% this year. Statewide slots handle fell 7% to $8.85b – the fourth straight month that figure has gone south – but slots hold increased to 6.7% from 5.7% last year, creating revenues of $591m compared to $544.4m last year. In other words, while the overall numbers are up, Nevada was more lucky than good, so best wait a few more months before proclaiming the state's return to its pre-recession heyday.
Luck was also a lady in Atlantic City, where casino gambling revenues rose 12.6% in August to $313.9m. Then again, August 2011 was a particularly bad month due to Hurricane Irene having shut down the casinos for three days, which cost the gaming joints between $40-45m in lost revenue. Plus AC now has a 12th casino, Revel, contributing to the total. Revel had its best revenue month in its five-month existence, bringing in $20m – $2.5m higher than July, but still only good enough for eighth spot on AC's depth chart. As always, the Borgata led the pack with $55.3m in gambling revenue, while Harrah's Resort was second with $40.1m and Caesars third with $38m. Finishing below Revel were the Atlantic Club ($14.8m), Golden Nugget ($13.1m), Resorts ($13.1m) and Trump Plaza ($10.7m).
Revel's lackluster performance to date is of growing concern to analysts, who (for some reason) expected the joint to explode out the gate and singlehandedly revive AC's sagging fortunes. Obviously, that hasn't happened. Last month, Revel's owners needed a $100m cash infusion just to keep the lights on, which prompted analysts to lower Revel's credit rating. And the humiliations are far from over. Delaware cleaning firm ABM Janitorial Services filed a lawsuit against Revel last week, claiming the casino owes them $545k for services rendered.
Builders have also complained that Revel has been slow to pay their bills. Jack Koscis, CEO of the Building Contractors Association of New Jersey, told NJ.com that it wasn't fair "to have someone wait five or six months for payment, and then receive pennies on the dollar." Revel spokesperson Maureen Siman said the allegation that Revel wasn't paying its debts in full was "just absurd." Siman claimed Revel was undergoing a "closeout audit," a process it expected to complete "within the next month, at which time any outstanding invoices will be paid." We're willing to give Revel the benefit of the doubt on this one, but if the janitors don't get paid and Revel starts posting signs requesting that patrons be a sport and pick up any litter they see, we'd say the writing was on the wall.
Comments