The scuttlebutt currently making the rounds of the online gambling industry is that the US Department of Justice is preparing a deal to drop the criminal charges brought against PokerStars owner/founder Isai Scheinberg on Black Friday. Sources claim the deal will see Scheinberg pay a personal fine in the range of what his company recently paid to settle the civil charges brought against it on Black Friday. Bottom line: Scheinberg won't see the inside of a US prison, but he will see his online poker empire take its rightful place inside a US regulated market.
When all is said and done, Scheinberg will likely have written checks to the DoJ worth over a billion dollars. Many will question whether it was worth it. But Scheinberg is a 65-year-old man with more money that he could conceivably spend over several lifetimes. Last year, Wynn Resorts honcho Steve Wynn told Forbes about a pre-Black Friday conversation he'd had with Scheinberg that ultimately led to the two companies agreeing to (briefly) enter into a Nevada online poker joint venture. True to form, Scheinberg told Wynn he wanted the US regulated market "to be done right." But Scheinberg also said he didn't want "to look over my shoulder at this point in my life."
A TAXING PROBLEM
When the press release of the criminal charge deal is eventually issued, Scheinberg's mega-check will be referred to as a fine, but let's be honest; this will be, and has always been, a back taxes issue. US Attorney for the Southern District of New York Preet Bharara admitted as much in July when he proclaimed that the settling of Stars' civil charges required the poker outfit to "turn over [its] ill-gotten gains." Ill-gotten how? There's no denying that under the letter of US law, the activities that the indicted online poker companies were compelled to engage in – employing third-party payment processors that sold 'golf balls' et al – constituted the legal definition of a crime. (Even though, as Antigua's 2005 World Trade Organization victory demonstrated, US efforts to prohibit PokerStars from offering services to Americans were themselves contrary to international law.) But under the spirit of the law, online poker is a victimless crime, something even US officials admit.
In sentencing Absolute Poker co-founder/director of payment processing Brent Beckley on two counts of fraud last month, Judge Lewis Kaplan acknowledged that there was "no evidence that Beckley intended to cause ultimate financial losses to banks, and no banks have identified for the Government actual losses attributable to Absolute Poker processing." Ironic, considering all the misdeeds inflicted on AP's players over the years, that the banks had nothing to complain about.
So if the banks haven't been cheated, and Stars' players certainly haven't been cheated, who does that leave as an aggrieved party, except the United States Treasury? The trouble is, with no US federal online poker regulation on the books, there's no taxation guidelines and no tax collection enforcement mechanism in place. Enter the Department of Justice. Beside the differing attitudes in how one treats one's customers (and/or minority investors), the difference between AP and Stars is that Scheinberg, unlike Beckley, Scott Tom and the other AP crew members, has the money to pay Stars' 'back taxes.' Which is why Scheinberg, unlike Beckley, will remain free to carry on his good work.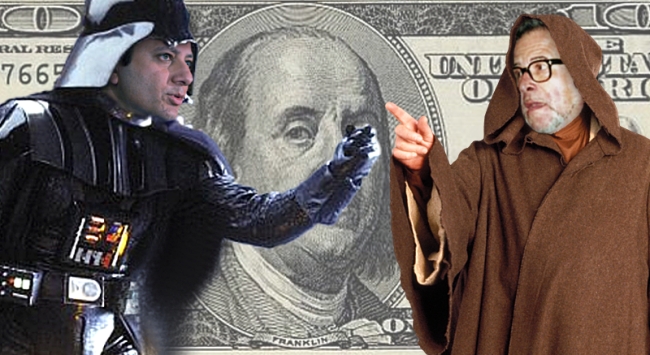 (POKER)STAR(S) WARS
If Black Friday was a Star Wars episode, PokerStars would be Obi-Wan Kenobi warning Darth Bharara that "If you strike me down, I shall become more powerful than you could possibly imagine." By maintaining proper internal business practices, Stars was able to roll with Black Friday's punches, repaying its players the instant the DoJ unfroze Stars' bank accounts. Now, after having done the same for FTP's players around the globe, Obi-Wan Scheinberg has been elevated to Yoda-like status in the eyes of the online poker Padawan.
Former IBM programmer Scheinberg founded PYR Software in Toronto in the year 2000 and helped son Mark launch PokerStars shortly thereafter. While the company enjoyed success as online poker's popularity boomed in the first half of the last decade, business really took off after the 2006 passage of the Unlawful Internet Gambling Enforcement Act (UIGEA) prompted the UK public companies to retreat to the safety of their London offices. Soon, Stars was reportedly clearing $500m in annual profits, which put a smile on Scheinberg's face and a US law enforcement bulls-eye on his back.
PokerStars may have been on the US authorities' bad books, but Scheinberg knew his company was on the right side of history, as evidenced by the Dec. 2011 DoJ announcement that the Wire Act didn't apply to online poker (and Tuesday's US District Court ruling that the IGBA doesn't apply to poker). Furthermore, by continuing to serve the market after less bold execs had folded their hands, Scheinberg was gambling that he could earn enough money to eventually give the US a backdated taste and still turn a profit. In the meantime, Stars could use those hundreds of annual millions to build a dominant market share outside the US as well.
Between the good will accrued from having done the right thing (twice) plus the addition of the #2 online poker brand (and the #1 software, in the eyes of many) to its stable of options, Stars' hold on a US regulated market will be vice-like. So when the UK public companies finally return in their gleaming armor – it should be gleaming, given that they'll have had nearly a decade in which to polish it – they will be reduced to jousting with themselves over the scraps.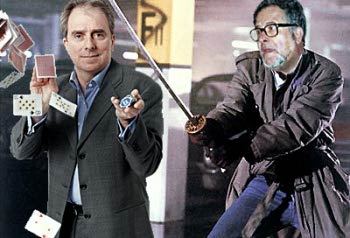 ISAI SCHEINBERG IS THE HIGHLANDER
As we have already statedon this site, we expect the future to unfold thus: Scheinberg will ink a joint venture or two combining a licensed US gaming outfit(s) with either Stars or FTP (or both). Whether he dusts off his former deal with Wynn or opens up the floor to competitive bids, Scheinberg will be able to strike a sweet deal, as he'll be bringing to the table (a) the brand strength of Stars/FTP, (b) the established US player preference for these companies' software, plus (c) the world's two most valuable online poker databases. And Stars' renewed success in the US will have a snowball effect on its international operations under the Stars or FTP banners. This will further consolidate Stars' grip on international markets, leaving those public gaming companies grasping at ever thinner straws.
Fearless prediction: all gaming stocks currently being promoted on the potential benefits that will flow their way via a regulated US poker market will drop precipitously the second the Scheinberg settlement is announced. EVERYONE in the industry knows that when these charges are dropped, Scheinberg will own the global online poker biz, including the US (through JVs). It is also widely suspected that he will open up multiple channels outside the US (casino and sports) and that he will now go multi-brand outside the US also.
We here at CalvinAyre.com suspect Scheinberg will also take parts of his business public – the parts doing business in regulated markets – as a bit of an exit strategy. Publicly traded Sportingbet PLC executed a similar type of exit strategy in 2006, only they did it backwards and it was their minority shareholders who were shown the exit. Instead of securing advance permission from their minority shareholders and without giving all shareholders an equal share in the new private company, the US-residing majority owners of Sportingbet used the passage of the UIGEA to sell US-facing Sportsbook.com to themselves for 10 bucks. Given that Sportingbet's move preceded Scheinberg's, you could say Scheinberg was following in Sportingbet's footsteps, you know, minus the fraud and stuff.
It will be interesting to note where Stars ends up on next year's eGamingReview annual Power50 ranking. eGR infamously kept both Stars and FTP off their big swinging dick list until 2010, when it became untenable for eGR to maintain the façade that these companies didn't essentially control the online poker space. Perhaps the US market will still be awaiting regulation by then, and Stars will have yet to sign a US-facing JV, but the potential ramifications of such a deal will be unmistakable. "Huge potential" was the justification eGR used to maintain Caesars Interactive's top-20 position in previous Power 50 lists, despite Mitch Garber's company not actually conducting any online gambling business at the time. If potential is the bellwether, then Stars should not only receive eGR's #1 ranking, eGR might as well give them at least the top-three while they're at it.