It's hard to believe that just four months ago, Macau casino operators closed out a banner quarter, in which gambling revenue on the island rose 27 percent year-over-year. The sharp percentage rise was particularly impressive given the market's 2011 performance, in which gross gaming revenue in Macau was $33.5 billion, five times the win recorded on the Las Vegas Strip over the same period.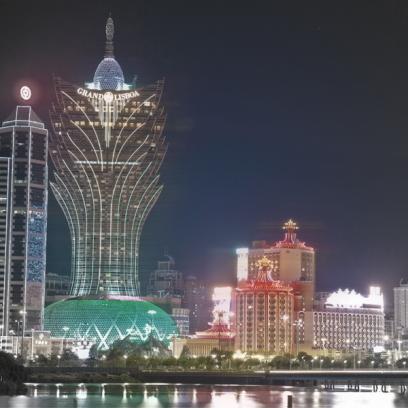 In response, the stock prices of operators on the island soared. Las Vegas Sands (LVS) – which traded below $2 per share in March 2009 – rose above $60 per share soon after the March 2012 numbers were reported. All six Macau operators saw their stock prices outperform the broad market in the first quarter, with four of the six posting returns over 30%. Even laggards Wynn Macau (WYNMF.PK) and SJM Holdings (SJMHF.PK), both beset by legal dramas and questions about market share, returned 17 and 25 percent, respectively, for the quarter. 
That all seems like a distant memory now. Macau gross gambling revenue grew just 1.5 percent in July. While analysts pointed to Typhoon Vicente, which shut down ferry service to the island for over a day, as a factor, it doesn't appear to be the key driver for the surprisingly lower rate of growth. As Reuters noted, analysts put the typhoon's effect around 3% of monthly win, meaning that even without the storm's interference, year-over-year growth would have dropped considerably relative to its rate earlier in the year. 
The main factors appear to be slowing economic growth in China, and tightening credit conditions impacting VIP junket operators in Macau. And neither headwind appears likely to let up soon. In fact, Reuters quoted Union Gaming analyst Grant Govertsen as predicting full-year revenue growth "to reach the teens," backing up Fitch Ratings, which lowered its full-year projection to 10 to 12 percent, down from 15 percent (after previously revising downward from 20 percent earlier in the year.) Given that revenue growth for the first six months was nearly 20%, these projections imply that, for the rest of the year, year-over-year growth will be in the low to mid single-digits. After the strong first quarter – and 42% year-over-year growth in 2011 – the slowdown in Macau has been simply astounding. 
That slowdown has been felt by investors in Macau operators. The stocks peaked on May 2nd, but after disappointing April revenue figures – highlighting weakness at LVS' brand-new Sands Cotai Central – were released, a long downtrend began:
Stock chart May 2nd to August 10th, 2012 of Wynn Macau (WYNMF), Galaxy Entertainment (GXYEF), SJM Holdings (SJMHF), Sands China (SCHYY), MGM China (2282.HK), Melco Crown Entertainment (MPEL). 
You can see from the chart that the stocks have recovered some of their losses over the past few weeks, likely due to increased optimism about the world economy. Stock markets worldwide have posted modest gains over the past month, as investors hope for stimulus packages in Europe, the US – and China – that will boost the world economy in the second half of the year. As I noted last month, gambling stocks have a close correlation to economic sentiment, and the guarded optimism about a resolution to the European debt crisis and renewed growth in China have no doubt helped casino stocks in Macau and worldwide. 
But another factor in the recent modest rebound is the fact that many analysts are calling Macau-facing casino operators remarkably undervalued after the recent declines in share prices. Goldman Sachs, Nomura Securities, and Cantor Fitzgerald have made bullish calls on Macau stocks over the past two months, with Goldman putting Galaxy Entertainment on its "Conviction Buy" list and Nomura's Harry Curtis projecting gains of 40% for US-based operators Wynn Resorts (WYNN), MGM Resorts International (MGM), and Las Vegas Sands. 
In fact, I made a similar argument back in June. Even the more negative projections for Macau going forward imply a level of growth simply not available in the mature, cannibalized Western markets. China may see short-term problems; but it will continue to create millionaires, and the cultural appeal of gambling in China and Asia more generally will not disappear overnight. Macau is, simply, the most profitable gambling market in the world, and it will stay that way for a very, very long time. 
There's another group of people who share those analysts' optimism: the executives who run casinos in Macau. Despite the pessimism surrounding the market, its leaders were notably bullish in conference calls discussing somewhat disappointing earnings for the island's operators. Sands CEO Sheldon Adelson told analysts "the opportunity for the continued growth [of the Macau market] is outstanding." COO Michael Leven noted that the new Cotai Central property, in terms of hotel occupancy and mass market win, was well ahead of its Four Seasons property at the same stage in its development. And President of Global Gaming Operations Robert Goldstein noted the strength of the mass market segment, which grew 33% in the second quarter and provides higher margins than its VIP counterpart. Still, Goldstein added in reference to the VIP segment, "rumors of its death may be greatly exaggerated." 
On the Wynn Resorts conference call, CEO Steve Wynn was similarly optimistic. In response to a question from Deutsche Bank analyst Carlo Santarelli about the "great unknown that is China," Wynn offered an interesting observation. "This is a world in which no one can predict tomorrow," Wynn admitted. But he went on to point out that "I think China, incidentally, is more stable than anyplace else. Europe and the United States are tricky. I think that China represents, at least to our family, a more stable environment…They seem to have cool leadership, and they are term thinkers." (One wonders if that was not a sly rebuke to the SEC, which initiated an inquiry into Wynn earlier this year.) 
Elsewhere, Wynn pointed out the success of retail for Wynn Macau – calling it "delicious" – and emphasized his company's focus on protecting earnings and margins, rather than over-spending to increase market share. Wynn noted the "aggressiveness" of his Macau competitors in increasing commissions to junket operators and making promotional allowances for slot players, a still-new demographic on the island. "Competition has made everybody sharpen their knives," he admitted. "It's healthy in the long run, challenging in the short run…We don't overreact." 
Certainly, Wynn, like his rival Adelson, did not sound like an executive over-reacting. In fact, neither executive sounded like a man who had lost hundreds of millions of dollars in net worth during the past few months. Nor did analysts asking questions on either call ask the kind of troubled, pointed questions companies in distress often face. In short, the "smart money" seems to think that the issues in Macau are short-term turbulence in what is, without exaggeration, one of the most astounding growth profiles in economic history. Yes, growth in Macau is slowing down, but as Wynn Macau COO Linda Chen said on the Wynn call, "I don't know if you can really expect 20% growth year-to-year to be reasonable." 
Macau is maturing; but that's not necessarily a bad thing. The rapid growth in VIP segment revenue may be trailing off; but it's being replaced by growth in the middle-class mass market segment. Even if the revenue boost from the smaller mass market players doesn't equal the millions often wagered by VIPs in a single visit, the higher-margin nature of slot machines and electronic table games versus high-roller baccarat creates a larger boost to earnings and cash flow. (The mass market also provides smoother earnings; the volatile nature of baccarat has repeatedly affected quarterly earnings for operators including Sands and Wynn. In fact, for the entire month of April, Wynn actually lost money dealing baccarat in Macau.) And the new focus on integrated resorts is leading to growth in retail and food service, which have thus far provided a tiny fraction of revenue on the island. 
The story of Macau going forward – modest growth based on middle-class slot players and restaurant profits – is not the same, sexy story of the past few years, in which newly minted millionaires flocked to the exotic island to bet tens of thousands of dollars on a hand of baccarat. But it's still a good story for investors; and the story is even better with Macau-facing operators trading at a 20-30% discount to their share prices just a few months ago. There may be a lot of pessimism surrounding Macau right now; but it doesn't seemed to be shared by the people who know the business best. They're the ones investors should be listening to.