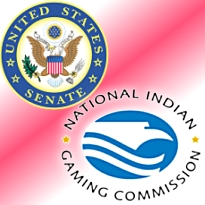 The US Senate Committee on Indian Affairs has released the witness list for its hearing on "Regulation of Tribal Gaming: From Brick and Mortar to the Internet" scheduled for this Thursday at 2:15 PM EST. Panel #1 will hear from Tracie Stevens, the chairwoman of the National Indian Gaming Commission (NIGC). Panel #2 will feature testimony from Bruce "Two Dogs" Bozsum, chairman of the Mohegan Tribe in Uncasville, Connecticut, and Glen Gobin, secretary of the Tulalip Tribes of Washington state. (Both Bozsum and Gobin testified at a previous Committee hearing on this subject in November 2011.)
Panel #3 will hear from Jamie Hummingbird, chair of the National Tribal Gaming Commissioners/Regulators; Elizabeth Homer, attorney with Washington, DC firm Homer Law, and Jon Porter, former Nevada congressman and president of lobbying outfit Porter Gordon Silver Communications (Porter works with the Poker Players Alliance advocating for federal online poker regulation). Thursday's hearing will be the third such event the Committee has held since November, the last having taken place in February.
The NIGC has released 2011 revenue figures generated by the Indian gaming industry. Using 421 audited financial statements submitted by 237 tribes with gaming operations, the NIGC says gross gaming revenues (GGR) rose 3% to $27.2b in 2011 – a new annual record and the first time annual GGR has risen since 2008, when revenues totaled $26.7b. Slightly less than two-thirds of gaming operations reported increased revenues in 2011, with 65% of these reporting growth under 10%.
The NIGC breaks down the country into seven regions, all of which reported small increases in revenues. The largest increases were the 8% gain in the Oklahoma City region, which encompasses 51 gaming operations in Texas and western Oklahoma, and the 7% gain in the Tulsa region, which includes 64 operations in Kansas and eastern Oklahoma. The biggest turnarounds were the 48 operations in the Phoenix region (Arizona, Colorado and New Mexico), which went from a 2% decline in 2010 to a 3% gain in 2011, and the Sacramento region (California and Nevada) where 63 operations went from a 3% decline in 2010 to a 2% gain in 2011.