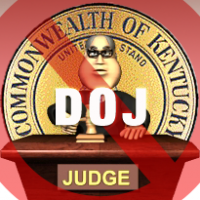 In what can only be described as a carousel spinning with no operator in sight, US federal attorneys have called Kentucky's domain seizure from 2008 as "unconstitutional", alleging that the commonwealth's seizure of 141 internet domains related to online gambling were actions that, as pokerfuse.com puts it, "lacked constitutional standing."
As far as these guys are concerned, Kentucky's claims have no merit because they were the ones that took control of these domains, including that of PokerStars, Full Tilt Poker, and Absolute Poker related to what the industry now calls "Black Friday". So in an effort to clear away whatever obstacles may lie from a potential settlement between the DOJ and the defendants, the former decided to give the Commonwealth of Kentucky the full turnaround tantamount to a "you-cant-have-them-because-they're-mine" sandbox squabble.
All this, of course, comes a week after our very own Peter Amsel brought to light a letter from SDNY lead attorney Preet Bharara to Judge Leonard Sand asking for "a July 16 deadline for (a) FTP, Bitar and Kentucky to file a motion to dismiss and (b) the DoJ to file to strike FTP, Bitar and Kentucky's claims."
The motion has since been filed in the United States Southern District of New York relating to matters of United States v. PokerStars, et. al and was filed by attorneys Michael D. Lockard, Jason H. Cowley, and Sharon Cohen Levin, all of whom are part of the offices of the aforementioned Bharara.
According to the DOJ and its attorneys, Kentucky's claims have no weight to them because the latter did not "obtained a judgment for the domain names and has never even successfully executed its state-court seizure warrant."
"Kentucky, in other words, has no ownership interest in the domain names; has never exercised possession, dominion or control over them; and thus lacks standing to assert a claim in this action."
To put this in perspective, this isn't exactly the DOJ's first rodeo ride when it comes to getting involved in a number of cases surrounding Poker Stars and Full Tilt, including a class-action lawsuit against Full Tilt and one coming from CardRoom International who alleged of unfair business practices that stunted the potential growth of the business. For the DOJ, the end game has always been to facilitate a settlement that allows PokerStars purchase the assets of Full Tilt and with this motion already filed, it appears that they're serious about hurdling whatever obstacles remain before a settlement can be concluded.