We've seen this song-and-dance number before – twice, actually! – this year and on both occasions, Tiger Woods crashed and burned faster than people could even cry about their lost wagers.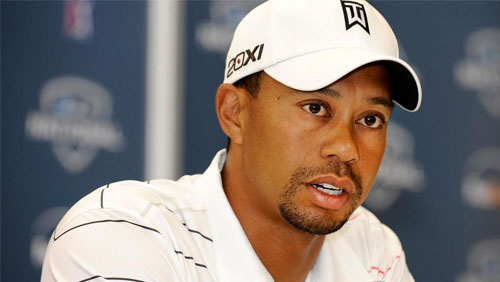 Heading into the third golf major of the year, Woods is again picked as the favorite to conquer the Royal Lytham and St. Annes – and it's not even close – after the Las Vegas Hotel and Casino penciled him in with 5/1 odds to win the 2012 Open Championship.
(You can call it the British Open too, if you so choose)
If you're thinking that there's a glitch in the Matrix and this is a case of deja vu running wild, it probably is. Remember, Woods was also cast as the favorite to win the Masters and the US Open this year. And if you're taking the similarities a step further, he was installed as such after winning the tournament prior to the aforementioned majors.
(Tiger won Bay Hill just before the Masters and the Memorial leading up to the US Open)
This time around? Tiger won the AT&T Invitational a few weeks ago.
Call it a case of parallel causality, but that's diving into a whole new discussion that's beyond our heads. What we do know is that anybody picking Tiger Woods this time around should proceed with caution.
If for nothing else, the odds for the rest of the field appear to be a little more enticing, particularly Rory McIlRoy and Lee Westwood, both of whom have been slotted in at 12/1. Englishman Luke Donald, who he possess the title of world number 1, is at 15/1. The fact that he's on home soil could also play a little advantage to his favor. From there, Padraig Harrington is at 20/1 with Phil Mickelson, Justin Rose, Sergio Garcia, Graeme McDowell, and a host of others at 30/1.
And if you're into long shots, who better than David Duval, the man who won the British Open the last time it was played here in 2001. He's getting 500/1 odds!
Who's to say a renaissance performance isn't in the cards for ol' Dave?
Comments