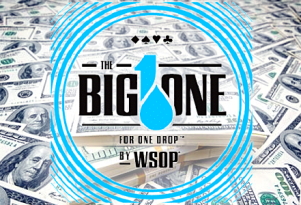 The 2012 World Series of Poker's only 'platinum' bracelet event, the $1m buy-in Big One for One Drop, kicks off Sunday at 1:11pm at the Rio in Las Vegas. The winner of the three-day tourney – from which 11.1% of each buy-in (totaling $5.533m) goes to benefit Cirque du Soleil founder Guy Laliberté's potable water NGO One Drop – will take home the single biggest prize in tournament poker history: $18.346m. The runner-up will receive $10.1m, while finishing ninth will earn you $1.109m. On Saturday, the WSOP released the 'official' list of the 48-players that will be taking part, although there is apparently still time for some of the more squeaky-bummed contestants to back out.
There are 27 professional poker players on the list: Roland De Wolfe, Tom Dwan, Jonathan Duhamel, Antonio Esfandiari, Phil Galfond, Bertrand Grospellier, Philipp Gruissem, Gus Hansen (who won his way in on Saturday via the $25k Mega Satellite), Phil Hellmuth (who also acquired his seat Saturday from the MGM Resorts VIP winner), Phil Ivey, Eugene Katchalov, Jens Kyllönen, Ben Lamb, Tom Marchese, Jason Mercier, Michael Mizrachi, Daniel Negreanu, Brian Rast, Vivek Rajkumar, Tobias Reinkemeier, Andrew Robl, Nick Schulman, Noah Schwartz, Erik Seidel, Mike Sexton, Justin Smith and Sam Trickett.
The remainder of the field (aka the fishier sorts the pros are hoping to feast upon) is a mix of familiar and unfamiliar names, drawn primarily from the world of business, including: Bobby Baldwin, Chief Design and Construction Officer, MGM Resorts Intl.; Frederic Banjout, CEO, Eden Shoes; Bob Bright, CEO, Bright Trading, LLC: Russian businessman Ilya Bulche; US hedge fund manager David Einhorn; Canadian businessman Giovanni Guarascio; Cary Katz, CEO, College Loan Corporation; the aforementioned Laliberté; John Morgan, CEO, Winmark Corporation; Paul Newey, Chairman, New Wave Ventures; venture capitalist Chamath Palihapitiy; Bill Perkins, owner of Small Ventures; Asian businessman Paul Phua; Phil Ruffin, owner of Treasure Island Resort; film producer and One Night In Paris sex tape star Rick Salomon; Dan Shak, founder, SHK Asset Management; European hedge fund manager Talal Shakerchi; Russian businessman Mikhail Smirnov; Kansas car dealer owner Brandon Steven; professional sports handicapper (and poker player) Haralabos Voulgaris and Asian businessman Richard Yong.
BUDDY, CAN YOU SPARE TEN MILLION DIMES?
The hedge fund managers and CEOs may have been able to cut $1m checks without batting an eye. Some of the more successful poker pros may likely have been able to do so as well, but few are believed to have taken that route. Instead, the past few months has seen a flurry of fundraising, as players publicly flogged pieces of their action on the open market. Twitter was a popular marketing tool, with Brian Rast offering a "5% markup, minimum 20k pieces" and Jason Mercier "selling pieces at 1.1. Min 0.25%" Some poor sod even posted a poorly spelled Craigslist ad "looking for sponser for One Drop."
Back in May, Hellmuth told PokerStrategy that he'd already received staking offers totaling $550k before he'd even decided whether or not he'd take part. But just this Wednesday, Hellmuth tweeted that he still needed to raise $400k, which he was willing to parcel out in $50k chunks. Faraz Jaka managed to raise only $250k before throwing in the towel. Noah Schwartz told the Wall Street Journal that he'd created his own company, One Drop Investments LLC, to handle the pieces of himself he'd sold to around a dozen backers, whom he described to CardPlayer as "hedge fund guys from New York."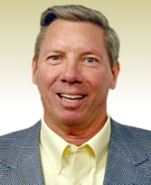 MIKE SEXTON SITS DOWN AT THE RIGHT TABLE
Unlike players such as Mercier, who told CardPlayer that raising the $1m in drips and drabs had been a "grind," Mike Sexton (pictured right) told the WSJ that his entire Big One buy-in was provided by a single investor – a 'prominent Los Angeles businessman' Sexton met at a private high-stakes game who offered to put up the whole stake while expecting only half of Sexton's winnings in return. Sexton is all too aware of his being in the right place at the right time: "I'm very fortunate to be in my situation."
CalvinAyre.com spoke to Sexton about the nature of staking such high-profile events as the Big One. Unlike Schwartz and his hedge fund backers, Sexton has "never had someone who wasn't a poker player stake me playing poker." Sexton described staking as "a tough proposition" at the best of times. "Investors usually want to invest a little to win a lot." Sexton has staked a few players himself over the years. "I only do it because I like that person and want to give them an opportunity to make a score and get back on their feet. I wouldn't stake players who have plenty of money. I like to help those who need help."
As for how staking affects a player's approach to the game: "Truthfully, you may try even harder when you're playing on someone else's money as you feel a greater sense of responsibility. You want to do well for them as well as yourself." Sexton may want to bring home the bacon for his LA businessman, but he rejects the popular notion that playing on someone else's dime leads to looser, more aggressive play. However, "if they need to make a big score and can only make big money by finishing high, then it's possible that player may play more aggressively."
Find more on WSOP and CalvinAyre.com's Poker month coverage.