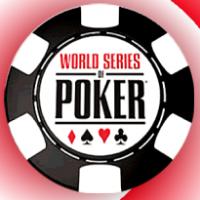 Putting together a World Series of Poker (WSOP) update the morning after the night before can sometimes be a challenge. Kind of like waking up after a party to discover…well…the party is still in full swing and someone just projectiled over the banisters. Latest bracelet winner Cliff Goldkind presented no such problems as his Event #19 $1,500 NLHE win was confirmed as the clock had barely hit 9:30 p.m. This event, which attracted 2,302 entries, had an prize pool of $3,107,700 meaning the 24-year-old took a tidy $559,514 home as well as the bracelet. Second-placed Kennii Nguyen's consolation will have come in the shape of a $347,036 payday and the news that no one had yet bettered his jester's hat getup.
Joining Goldkind on the bracelet pedestal was Benjamin Scholl – earning $206,760 after taking down Event #20: $5,000 Limit Hold'em. Scholl outlasted second-placed Andrew Prock after a three-handed battle that had involved Jeff Shulman.
Nine players will be back for the final day of Event #22 as they were unable to break it down to the field of seven that was desired. The $2,500 2-7 Triple Draw Lowball (Limit) is led by David Baker who has over $1 million in WSOP earnings but no bracelet to show. Multiple bracelet winners in the shape of Farzad Bonyadi (3 wins), Josh Arieh (2) and Layne Flack (7) all remain in the running with the nine vying for a $145,247 first prize.
Event #23 was one of those to get started with 924 entries whittled down to just 141 in this $3,000 NLHE/Six Handed event. The prize pool ended up reaching $2,522,520 and out in front is Jeff Manza with a stack 275,000. Who da Man(za)?!
A bracelet will be handed out in Event #21 at some point tomorrow with Jamie Armstrong best placed at the end of day 2 to grab the gold. The latest $1,000 NLHE event attracted 2,799 entries and there remains just 17 in the race for a first prize of $440,829. Armstrong's holding a stack of 1,434,000 chips with Noah Vaillancourt skittering along behind with 1,212,000.
Players in Event #24 are still yawning their way through the levels in the comfort they'll bag $294,777 if they're victorious in the $5,000 Omaha Hi-Low Split 8-or-Better. Leading them going into day two is Jim McCrink on 53,600. Phil Ivey will be trying to sniff out another bracelet when play resumes with Jason Mercier also looking for some bling.
OLYMPIC FEVER
London is currently being gripped by Olympic fever and the city's poker circuit is no different, answering with a poker event tailored to the games. The Poker Olympics London 2012 takes place at the city's International Private Members Club from July 16 to 22 with a number of events that take on the names of Olympic events. It will run as follows:
Monday 16th – £40 Triple Jump
Tuesday 17th – £100 Pentathlon
Wednesday 18th – £100 Heavyweight Final (Bounty)
Thursday 19th – £75 Triathlan (ROE NLHE PLO PLO8)
Friday 20th – £10 Sprint Finals (Re-Buy)
Saturday 21st – £300 + £30 Main Event
Sunday 22nd £40 Relay Finals (Team)