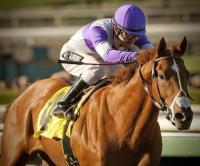 I'll Have Another's quest to become only the 12th thoroughbred to win the prestigious Triple Crown gets underway this weekend at the Belmont Park in Elmont, New York. The history-seeking chestnut colt has been made the favorite to win the Belmont Stakes 4/5 odds and become the first Triple Crown winner in 34 years.
I'll Have Another's biggest rival at the Preakness and Kentucky Derby, Bodeimester, decided to skip the Belmont, clearing a little bit of path for the former to stake claim to the sport's holy grail. Nevertheless, a total of 11 horses will line up with I'll Have Another, looking to deny it a piece of horse racing history. The favorite to pull of the upset is Dullahan, which has been given 5/1 odds. Then, there's Union Rags and its 6/1 line, followed closely by Paynter at 8/1 odds, and Street Life at 12/1 odds.
From there, the rest of the field are long shots to capture the Belmont Stakes. Optimizer and My Adonis have been tapped as 20/1 odds to win, followed by Antigun and Unstoppable U at 30/1 and three horses – Ravelo's Boy, Five Sixteen, and Guyana Star Dweej – all getting 50/1 odds.
Of the 11 rivals, Dullahan is being touted as the most likely horse to deny I'll Have Another's Triple Crown bid. It faired well at the Preakness, finishing third, before skipping the Kentucky Derby in order to prepare for the Belmont Stakes. Could fresher legs and an ideal post – Dullahan drew post no.5 compared to post no. 11 for Another – be enough to win the Belmont Stakes?
Another challenger for I'll Have Another's quest for the Triple Crown is Paynter, a colt whose owner, Ahmed Zayat, also owns Bodemeister. After chasing down Bodemeister in route to winning the Preakness and Kentucky Derby, I'll Have Another has been given a new challenger for its Triple Crown bid.
The field at the Belmont is interesting, for lack of any better descriptions. You have the favorite, a couple of contenders, a dark horse, and a number of long shots.
Don't sleep on the long shots, though, because history has proven that some breakthrough in spectacular fashion when nobody expected them to. Back in 2002, trainer Ken McPeek and his horse Savara, improbably pulled off one of the greatest upsets in Belmont Stakes history, winning at 70/1 odds and denying War Emblem's bid for a Triple Crown.
This weekend, McPeek will have two colts on the field – Atigun and Unstoppable U – both of which are getting 30/odds.