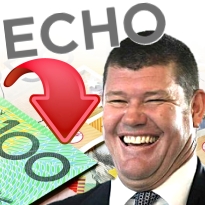 Echo Entertainment chairman John Story has hit back at Crown Ltd. boss James Packer (pictured right) for attempting to replace him on Echo's board with Packer-friendly ex-politician Jeff Kennett, saying Echo "do not believe that it is in the interests of shareholders that a competitor be represented on the board. These moves by Crown should be viewed through the prism of its ardent desire to gain control of Echo's valuable licenses without paying a premium to Echo shareholders." Regardless, Echo has agreed to Packer's request to hold an extraordinary general meeting on July 20 at which a vote on whether to replace Story will be held.
But in a spectacular display of bad timing, while Story was pushing back at Packer, Echo was forced to admit that its core casino markets were undergoing a rough patch. While group revenue for the year to May 28 was up 5.5%, the number sinks to 3.1% once you exclude the VIP segment. The company also expects to incur $38m in pre-opening charges for Sydney's The Star casino and a further $10m charge related to Echo's cost optimization program.
But even more embarrassing was a $29.9m writedown following the collapse of VIP junket operator SilkStar Global Marketing Ltd. in March 2012. In January 2011, Echo paid a development fee and prepaid commissions totaling $7m to SilkStar, and Echo "believes that the recovery of these amounts is doubtful." Compounding matters, some of the VIPs SilkStar brought in still owe Echo an additional $22.9m. Echo has promised to "vigorously pursue all possible avenues" to reclaim these funds, but given the likelihood of success, has prudently written them off as bad debts.
Cue James Packer saying 'I told you so'. Packer's assault on Story began weeks ago with an unfavorable comparison of Echo's financial performance with that of rival Crown. Following Echo's announcement, Packer cackled to the Australian Financial Review: "Another writedown from a John Story-led company. If this wasn't so serious, it would be a joke. He has to go." Packer told The Australian that the writedown was "yet another example of [Echo's] inability to manage risk" and the financial update "further highlights how Echo's financial performance is falling behind and why board change is absolutely necessary." We like to think Packer then swiveled his chair around and clutched his hands together under his massive chin, C. Montgomery Burns-style, uttering one final word: Excellent.