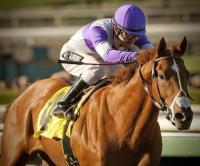 "Two down. One to go!"
That's going to be the rallying cry of supporters of thoroughbred I'll Have Another after it won the Preakness Stakes in yet another remarkable final stretch, besting rival and race favorite Bodemeister. With its Preakness triumph, I'll Have Another inches one step closer to winning the prestigious Triple Crown for the first time since 1978.
Similar to its win at the Kentucky Derby, I'll Have Another had to dig in deep and make one last furious rally against Bodemeister. With a shot at the Triple Crown hanging in the balance, I'll Have Another pounced on Bodemeister's late lead, closing the gap with each stride before finally beating its rival by a nose in the finish line.
With wins at the Kentucky Derby and the Preakness Stakes already in the bag, I'll Have Another and its jockey, Mario Gutierrez, are now setting their sights on the Belmont Stakes, which will be held in three weeks' time at Belmont Park in Elmont, New York.
If the chestnut colt somehow pulls it off, it will only be the fourth horse to win horse racing's equivalent of a Grand Slam. The Triple Crown has only been achieved three times – Secretariat, Seattle Slew and Affirmed – and it hasn't been accomplished for 34 years.
Despite being the favorite at 8/5 odds, Bodemeister failed to capitalize on another late lead, falling at the wire to its rival. If it would have held on for both races, the conversation would have been much more different with thinking heads like us lauding Bodemeister for its quest of the Triple Crown.
But with one miraculous rally after another, it's I'll Have Another's turn to be in the spotlight, one that is pretty well deserved.
As for its Triple Crown quest at the Belmont Stakes, the line-up of horses that will participate has not yet been officially announced, but what we do know is that Bodemeister won't be in the field. That wrinkle clears a potential hurdle for I'll Have Another's chances to achieve horse racing immortality.
In the absence of Bodemeister, a number of strong competitors will also be part of the field looking to thwart I'll Have Another's Triple Crown chances. One of them is Dullahan, the third place finisher at the Kentucky Derby who curiously skipped the Preakness Stakes.
The rest of the field is expected to round into shape in a couple of weeks. In the meantime, we need to start appreciating I'll Have Another and its trainer Mario Gutierrez for their tremendous achievement.
From 15/1 long-shot odds at the Kentucky Derby to  its 5/2 odds at the Preakness, should there be any suspense who's going to be the favorite to win at Belmont?