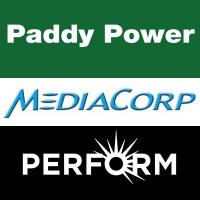 Paddy Power has seen 92 complaints against their advert upheld by the Advertising Standards Authority. The bookmaker's advert "poked fun" at transgender females ahead of March's Cheltenham Festival and as a result there was an outpouring of disgust from a number of different complainants. The two issues they were unhappy with was that it was "offensive" whilst at the same time it "condoned and encouraged harmful discriminatory behaviour and treatment". Both were upheld by the advertising watchdog as they breached the "harm and offence" and "social responsibility" points of the code. The uproar was enough for the ads to be pulled after their original broadcast and instead of dwelling on it Paddy is likely to see this is a useful piece of free marketing.
Media Corp has abandoned a bid for Gaming Media Group (GMG) after noticing that Intabet represented more bang for their buck. The move, which will cost £1.53 million, gives Media Corp more of a presence in the online betting market through the odds comparison sector. Intabet allows customers to find the best value and place bets on a number of sites through one account. The deal means Phil Jackson and Adam Fraser-Harris, both management at Intabet, are given seats on the Media Corp board. Jackson becomes a non-executive chairman whereas Fraser-Harris is the firm's interim CEO.
The former owner of Gambling.com also released its half-yearly report with internet gaming not delivering. Turnover from online gaming increased from £10 million this time last year to £15.2 million while at the same time the trading profit took a huge hit, decreasing from a profit of £12,000 to a loss of £417,000. This was blamed on the negative press from legal action taken out by CD Casino against them and the poor performance of Purple Lounge, something that meant the eventual suspension of its operations. Justin Drumming confirmed he was stepping down as chairman and added: "This has been a very difficult period for the Group, though I believe with the acquisition of Intabet Limited together with further financing, announced today, the Group can now look forward."
Perform Group has announced the acquisition of RunningBall for up to €120 million. The deal will expand their sports data portfolio and combine with their editorial and video sectors to create a comprehensive solution that will be of interest to the gambling industry. Perform are hopeful the deal will mean more licensees, increase the amount of events licensees sign up for and mean an increase in sports events. They will also attempt to up sell the data to Watch&Bet and Watch&Trade licensees.
Comments