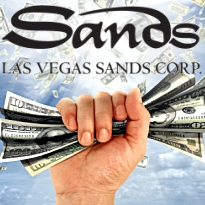 Las Vegas Sands (LVS) reported record revenues and profits in Q1 2012 at both its Asian and domestic properties. Sands' $1.07b in adjusted EBITDA is a record quarterly haul for any gaming company past or present, leading LVS chairman Sheldon Adelson to report the company was "cooking on all cylinders." (Apparently, when you're that rich, you're allowed to mix your metaphors. Either that, or you really don't want to eat a home-cooked meal at Sheldon's place.)
LVS saw overall revenues rise almost 31% to $2.76b, a personal best for the company. Net income came in at $498.9m, a 118.7% bump over Q1 2011. The exceedingly healthy figures will no doubt come as a relief to Republican politicians who are looking to Adelson to provide a good deal of their campaign funding this election year.
As usual, Sands' Asian properties provided the bulk of Adelson's bounty. Sands China reported a 25% boost in net revenues to $1.16b, but net income was up a more modest 5.8% to $277.4m. The Venetian Macau benefited from the growing clout of the mass market segment, as non-rolling chip drop rose 12.7% to a record $1.11b. The Venetian also posted record slots handle of $1.24b, up 67% over 2011, although slots hold fell to 5.6% from 6.9%. But the VIPs aren't going anywhere: rolling chip volume was up 11.4% to a record $13.8b. About the only true negative number here is the $42.9m loss incurred by the decision to shutter the Venetian's Cirque du Soleil show Zaia in February.
Sands Macau posted similarly impressive stats, with non-rolling chip drop of $707.8m representing the strongest figure since the pre-financial meltdown days of Q1 2008. Slots handle was up 52.1% to a record $663.2m. Rolling chip volume was down 22% but the win rate improved to 3.7%. The Four Seasons Hotel Macao/Plaza Casino saw rolling chip volume rise 221.8% to a record $12.7b and non-rolling chip win was up 33.7%. We'll have to wait another three months to see the first numbers from Sands newest Macau property Sands Cotai Central.
In Singapore, Marina Bay Sands posted a 66.1% rise in gaming revenue to $701.3m. Rolling chip volume was up 26.4%, non-rolling chip drop up 18.3% and slots handle rose 34.2%. Total mass win per day was $4.47m, up from $3.68m in 2011. Stateside, LVS' Nevada properties recorded a 26.1% overall revenue gain to $384.6m, but gaming revenues were up 91% to $158.7m. Even here, baccarat helped drive a 27.8% gain in table games drop. At Sands Bethlehem in Pennsylvania, net revenues rose 27% to $115.6m, helped by a 69.3% gain in table games drop.