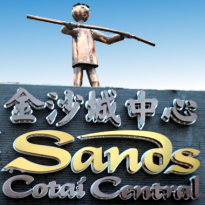 We're only a day away from the official opening of the new Sands Cotai Central casino-resort in Macau and already buttocks are clenching tighter in anticipation of the fate awaiting the wire-walking team of Jade Kindar Martin and wife Karine Mauffrey. The high-flying pair will kick off the Sands Cotai opening festivities by traversing a 525-meter long, one-inch thick wire suspended 150 meters above the ground. Since the Cotai peninsula used to be a swamp, here's hoping it's a soft landing if one of them falls.
The couple will start walking from opposite ends of the wire, which is strung between the top of the Venetian Macau and the new Conrad Hotel at Sands Cotai. The death-defying duo will meet in the middle of the wire in a journey the Macau Daily Times estimates will take about half an hour. China's National Symphony Orchestra will be on hand to serenade the pair during their elevated stroll. Say, do you guys know Ace of Spades?
Dan Raviv, special advisor to Las Vegas Sands main man Sheldon Adelson, told the Lusa news agency that Sands Cotai is the largest integrated resort ever built. In fact, Raviv refers to it as "a fully integrated city." (No word on whether Adelson is referred to as 'Mr. Mayor' within its confines.) Upon completion of its final phase in 2013, the joint will feature 5,800 hotel rooms, which will be priced more competitively than at Sands' Venetian Macau facility. More important to some, Sands Cotai Central's initial phase will feature 800 slots and 340 gaming tables.
The question now becomes, who is going to count all the money Sands Cotai brings in? Macau Business claims there aren't enough local accountants or auditors to handle the increased workload brought about by international financial reporting standards. Say, you don't suppose that wire-walking couple could figure out a way to embed a calculator into their balance poles, do ya?