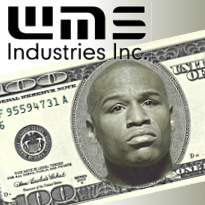 Gaming device maker WMS Industries has become the latest company to apply for a Nevada online poker license. WMS already operates a successful online gaming site in the UK (JackpotParty) and some social media slots games (Lucky Cruise, FriendSlot) on Facebook. WMS president Orrin Edidin said the company had "made significant progress in our development of a technology and entertainment content base that will help our customers unlock the emerging opportunities provided through online capabilities." WMS joins a long list of companies that have applied in Nevada, including WMS competitors IGT, Bally Technologies and Aristocrat Technologies.
Nevada's Gaming Policy Committee (GPC) hasn't even held its first meeting since Gov. Brian Sandoval reanimated its corpse, but it's already survived a brush with death. On Tuesday, the state's Sunset Subcommittee, a body that looks to kill off redundant or just plain useless state boards and commissions, floated the idea of driving the stake back into the GPC's heart, but ultimately decided to let Sandoval have at least one meeting before they render a verdict. In November, Sandoval resurrected the GPC, which hadn't met in a quarter-century, specifically to deal with Nevada's new online poker plans. The Las Vegas Sun reports that the Subcommittee will review the GPC's right to life again in May.
Figures released on Monday by the Las Vegas Convention and Visitors Authority (LVCVA) are adding weight to the theory that the gambling center's fate increasingly rests on the discretionary spending of a few Asian whales. The Las Vegas Review-Journal reported the LVCVA's finding that visitors to Las Vegas reported a slight drop in the sums they budgeted on gaming in 2011 ($447.63) compared to 2010 (($466.20). Yet gaming revenues were up 3.5% in Clark County in 2011 and up even higher (5.1%) at casinos on the Las Vegas Strip. So if the average person is spending less, yet revenues are going up, it suggests that a few people are spending a lot more. And chances are those people are Asian guys fresh off the Gulfstream dropping six figures per hand of baccarat.
Or maybe it's Floyd 'Money' Mayweather Jr. living large down at the M Resort sportsbook. Floyd's not exactly shy about tweeting his winning wagers, but if you were to judge solely by his tweets, the Money man's never lost a bet. Ever. MLive.com's David Mayo has been following Mayweather's prep for his upcoming fight against Miguel Cotto, which has Floyd saying things to his sparring partners like "my check looks like your Social Security number." Mayo details how, when a member of the boxer's entourage reminded Mayweather that a particular NBA game was set to tip off, Floyd reached for a backpack full of $100 bills in $10k stacks. Sorta like we do down at CalvinAyre.com when the snack wagon rolls by. (Beluga caviar smoothies ain't cheap, ya know.)
Last month, rumors circulated that Floyd won $900k taking the New Jersey Nets over the New York Knicks. In December, Floyd was rumored to have bet $1m that God's gift to football (and comedy writers) Tim Tebow would get his angel wings clipped by the New England Patriots. So how much of this is shit and how much is shinola? "I've won a lot of money on games, I've lost a good piece of money on games. But at the end of the day, some of the games that they're talking about are rumors they put out there, that are false. A $50k bet, or a $100k bet, that's a normal bet."
So there you have it folks. Floyd may be undefeated in the ring, but he's evidently just another mortal down at the sportsbook. So why does he do it? "It just makes the sport a lot more interesting, betting on the sport." You know, that may be the first thing out of Mayweather's mouth that hasn't immediately caused us to feel like sticking knitting needles in our eardrums.